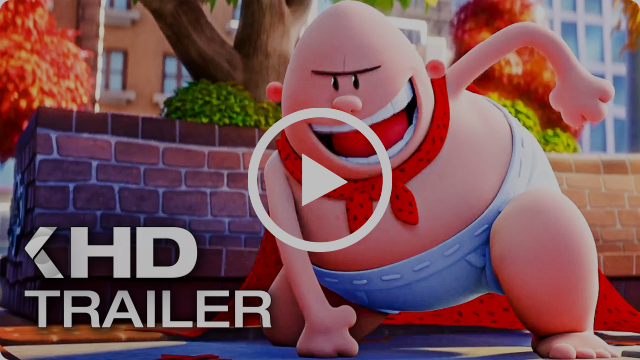 Captain Underpants: The First Epic Movie
Two overly imaginative pranksters named George and Harold, hypnotize their principal into thinking he's a ridiculously enthusiastic, incredibly dimwitted superhero named Captain Underpants.
Directed by:  David Soren
Stars:  Kevin Hart, Thomas Middleditch, Ed Helms
89 Min / English / G
The next SBI Open Screen event is upon us ~ Monday, June 26th @ 6:30. Submit your work for a chance to see it up on the Civic Theatre screen with your peers and a public audience in a casual setting. Discussion following the screening.
We recently thanked our donors at our Donor Appreciation Party. We were also so delighted to host RBC staff volunteers to help run that event and were the recipients of a generous RBC donation. Thank-you RBC!
Local celebrity, undergarments and a trek through the jungle.
Well that certainly puts an image in your mind; now let's see if we can deconstruct that for you a bit. The Nelson celeb in question is none other than Silicon Valley star, Thomas Middleditch. The undergarments are certainly not found in a Victoria Secret catalogue, but are the pair of tighty whiteys worn by Captain Underpants (G). The trek through the jungle, although not uncommon for our Nelson backpacker set, is presented here as the true story… Read More Here
Pirates of the Caribbean: Dead Men Tell No Tales
Captain Jack Sparrow finds the winds of ill-fortune blowing even more strongly when deadly ghost pirates led by his old nemesis, the terrifying Captain Salazar, escape from the Devil's Triangle, determined to kill every pirate at sea…including him.
Directed by: Joachim Rønning, Espen Sandberg
Stars: Johnny Depp, Geoffrey Rush, Javier Bardem
129 Min / English / PG
Trailer: Pirates of the Caribbean: Dead Men Tell No Tales
Cars 3
Blindsided by a new generation of blazing-fast racers, the legendary Lightning McQueen is suddenly pushed out of the sport he loves. To get back in the game, he will need the help of an eager young race technician with her own plan to win, inspiration from the late Fabulous Hudson Hornet, and a few unexpected turns.
Directed by: Brian Fee
Stars:  Owen Wilson, Cristela Alonzo, Chris Cooper
109 Min / English / G
Trailer: Cars 3
Spiderman: Homecoming
Thrilled by his experience with the Avengers, Peter returns home, where he lives with his Aunt May, under the watchful eye of his new mentor Tony Stark, Peter tries to fall back into his normal daily routine – distracted by thoughts of proving himself to be more than just your friendly neighborhood Spider-Man…
Directed by: Jon Watts
Stars: Tom Holland, Chris Evans, Robert Downey Jr.
Trailer: Spiderman: Homecoming
Despicable Me 3
Gru faces off against Balthazar Bratt, a former child star who has grown up to become obsessed with the character that he played in the '80s, and gets into some sibling rivalry when he meets his long-lost charming, cheerful, and more successful twin brother Dru who wants to team up with him for one last criminal heist to steal the diamond that Bratt has stolen.
Directed by: Kyle Balda, Pierre Coffin
Stars: Jenny Slate, Kristen Wiig, Steve Carell
96 Min / English / G
Trailer: Despicable Me 3
Baby Driver
After being coerced into working for a crime boss, a young getaway driver finds himself taking part in a heist doomed to fail.
Directed by: Edgar Wright
Stars: Ansel Elgort, Lily James, Jon Hamm
113 Min / English / 14A
Trailer: Baby Driver
Copyright © 2017 Nelson Civic Theatre Society, All rights reserved.
You are receiving this email because of your past membership with Nelson Civic Theatre Society.

Our mailing address is:

Nelson Civic Theatre Society

719 Vernon St

Nelson, BC V1L 4G3

Canada

Want to change how you receive these emails?
You can update your preferences or unsubscribe from this list