Coldsmoke Opener: Variety Show
Friday Feb 23 Doors at 6:30pm, Show at 7:00pm

With a line up of wacky and dynamic talent, this evening is sure to have you laughing, thinking and hopefully being totally moved by the stunning world (and mountain culture) we all know and love. With a panel discussion from some of the industry's best, our host extraordinaire, Peter Moynes will be keeping us moving and grooving with this incredible lineup! Doors open at 6:30pm.
Presented by Kootenay Mountain Culture Magazine
Get Tickets and Learn More
The Breadwinner
Saturday Feb 24 5:00pm, Sunday Feb 25 2:00pmA headstrong young girl in Afghanistan disguises herself as a boy in order to provide for her family.

Director: Nora Twomey
Writers: Anita Doron, Deborah Ellis
Stars: Saara Chaudry, Soma Chhaya, Noorin Gulamgaus
94 Min / English / PG
The Disaster Artist and THE ROOM
Saturday Feb 24 7:00pm, 9:00pmJoin us for a special double feature of the hilarious new film from James and Dave Franco – The Disaster Artist at 7:00pm, followed by the original cult classic from Tommy Wiseau – The Room at 9.

The Disaster Artist:
When Greg Sestero, an aspiring film actor, meets the weird and mysterious Tommy Wiseau in an acting class, they form a unique friendship and travel to Hollywood to make their dreams come true.

Director: James Franco
Writers: Scott Neustadter (screenplay by), Michael H. Weber (screenplay by)
Stars: James Franco, Dave Franco, Ari Graynor
104 Min / English / 14A
Call Me by Your Name – Encore Screening
Sunday Feb 25 6:45pm

In Northern Italy in 1983, seventeen year-old Elio begins a relationship with visiting Oliver, his father's research assistant, with whom he bonds over his emerging sexuality, their Jewish heritage, and the beguiling Italian landscape.

Director: Luca Guadagnino
Writers: James Ivory (screenplay by), André Aciman (based on the novel by)
Stars: Armie Hammer, Timothée Chalamet, Michael Stuhlbarg
132 Min / English / 14A
Molly's Game
Monday Feb 26 7:00pm

The true story of Molly Bloom, an Olympic-class skier who ran the world's most exclusive high-stakes poker game and became an FBI target.

Director: Aaron Sorkin
Writers: Aaron Sorkin (written for the screen by), Molly Bloom (based on the book by)
Stars: Jessica Chastain, Idris Elba, Kevin Costner
140 Min / English / 14A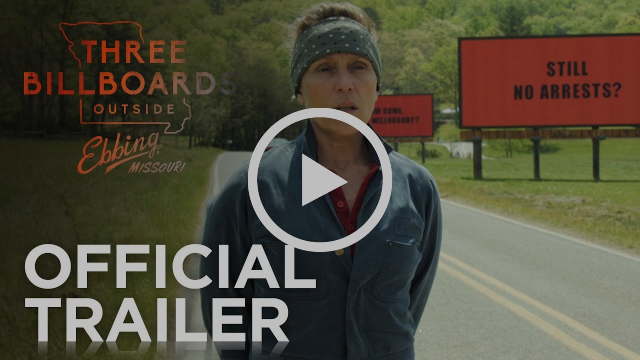 Three Billboards Outside Ebbing, Missouri – Encore Screening
Tuesday Feb 27 7:30pm

A mother personally challenges the local authorities to solve her daughter's murder when they fail to catch the culprit.

Director: Martin McDonagh
Writer: Martin McDonagh
Stars: Frances McDormand, Woody Harrelson, Sam Rockwell
115 Min / English / PG
Jane
Wednesday Feb 28 7:30pmDocumenting the life and work of renowned primatologist Dr. Jane Goodall, specifically her exploits as a pioneer in research on chimpanzees.

Director: Brett Morgen
Writer: Brett Morge
Stars: Jane Goodall
90 Min / English / PG
A Fantastic Woman
Thursday March 1 7:30pm

Marina, a transsexual woman who works as waitress who moonlights as a nightclub singer, is bowled over by the death of her older boyfriend.

Director: Sebastián Lelio
Writers: Sebastián Lelio (screenplay), Gonzalo Maza (screenplay)
Stars: Daniela Vega, Francisco Reyes, Luis Gnecco
104 Min / English / 14A
Oscar Party – Wonder Women: Stong Female Leads
The Civic is excited to present an evening dedicated to powerful women from here to Hollywood, styled after the forward-looking Weimar cabarets of the Marlene Dietrich era 1920s and early 30s! The evening will feature a spectacular line-up of female performers, from Juno-nominee Melody Diachun to "Canadian Legend of Burlesque" Judith Stein and many more! A full bar will be serving the sophisticated cocktails of the Weimar cabaret era as well as more modern selections. There will be games, a silent auction and more! Come dressed as your favourite strong female lead or counterpart, or in formal black. This is a 19+ party. GET TICKETS and Learn More
Tickets are $35 in advance and $40 at the door so get yours now!
Check out the Event on Facebook
Local #WonderWomen
Read about all the amazing local performers who will be putting on one amazing show at our upcoming Oscar Party. Get the details on each of the talented artists being featured as well as need-to-know info about the evening.  Read More
Vote for The Civic!
Vote for us for a Nelson Chamber of Commerce Business Excellence Award
Fill out this quick survey to nominate your favourite businesses for Business Excellence Awards and pick NCTS for Non-Profit/Community Service Organization Excellence (or other catagory if you see fit!) We appreciate it. Don't think The Civic makes the cut? Let us know how we can improve.
VOTE FOR US
Need a Movie Buddy?
Join us for our next Films with Friends Meet Up
Our Films with Friends meet ups are now held every Thursday at 6:00pm at Cake Betty Cafe and Cakery – 709 Vernon St. If you or someone you know needs someone to go the movies with, this is a great opportunity to see a film in a group setting. The group will be meeting for coffee, treats and conversation at 6 and will then enjoy this week's Thursday film at The Civic! While the meet up is geared towards seniors in our community, everyone is welcome! Check out the event on Facebook
Did you know you can save $2.00 EVERY time you see a movie?
The $2.00 discount at the box office is only one of the many perks of being a member of Nelson Civic Theatre Society.  We also offer free screenings of classic films and cult favourites, points towards free tickets, popcorn and fountain drinks, and a voice in the direction of the organization. Click here to get started!
Recently started or renewed your membership? 
Come pick up your new swipe card!
If you've been in recently to start or renew your membership, you may have forgotten to pick up your new swipe card. See us in the office to get your shiny new proof of membership!
OSCAR PARTY – Wonder Women: Strong Female Leads
Saturday, March 3 8:00pm

The Civic Theatre presents our 5th Annual Oscar Party: Wonder Women: Strong Female Leads, taking place on Saturday March 3rd with doors opening at 7:30pm. Join us at The Civic Theatre for a dress-up party with a variety of stunning live entertainment, appetizers and hors d'ouvres, a licensed bar, The Civic's famed photobooth, a screening of Lady Bird and much more!
Hollow in the Land
Monday, March 5 TBC

A woman with a troubled past sets out to find her missing brother. From Castlegar director Scooter Corkle, Hollow in the Land was shot in the Kootenays!

Director: Scooter Corkle
Writer: Scooter Corkle
Stars: Rachelle Lefevre, Dianna Agron, Jared Abrahamson
92 Min / English / 14A