RESIDENCY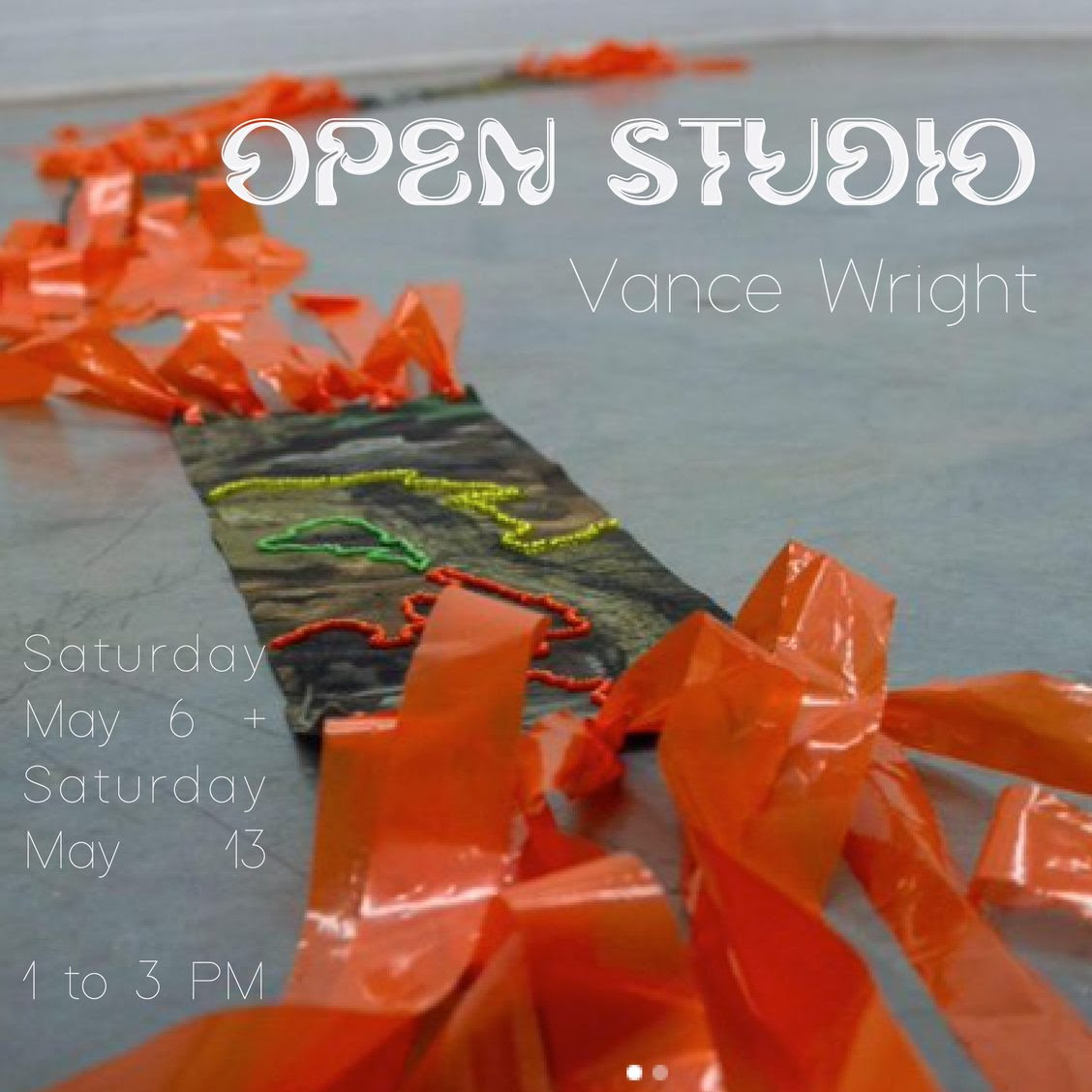 Vance Wright
Residency: 26 April – 20 May 2023
Open Studio: *Saturday, May 6, 2023* + Saturday, May 13, 2023, 1:00 PM – 3:00 PM
Exhibition: 27 May – 17 June 2023

Join us today [Saturday, May 6th] and next Saturday, May 13th for the Open Studio with Oxygen Art Centre's Artist-in-Residence Vance Wright. Open Studios provide an informal opportunity for the public to engage with the artist and their practice. The events run from 1:00 to 3:00 PM and are free to attend.

Wright is a two-spirit reconnecting member of the Tl'azt'en Nation who was born on the traditional territories of the S'inix't Nation, colonially known as Nelson, BC. They return to their hometown for a four-week residency to explore decolonialism through beadwork, sculpture, and curatorial practice.
An emerging artist and curator, Wright is currently engaged in an undergraduate degree at Emily Carr University of Art + Design in Critical & Cultural Practices and Sculpture. During their residency Wright intends to pick up various threads in their practice concerning concepts of trace and portals, and how they relate to curatorial practice. This will be primarily explored through textiles like technical camouflage and beadwork practices, as well as formal engagements with hegemonic exhibition tropes.
Following the residency, Wright will present new and existing works in an exhibition entitled Tracelines, on view from Saturday, May 27, 2023, to Saturday, June 17, 2023. Oxygen Art Centre will be open to the public Wednesdays to Saturdays from 1:00 PM to 5:00 PM during the exhibition run. Admission is free or by donation.

This program is generously supported by the Canada Council for the Arts and the British Columbia Arts Council.

Call for Volunteers: Gallery Hosts
Vance Wright: Tracelines
Exhibition: 27 May – 17 June 2023

Oxygen Art Centre is looking for volunteers to host the upcoming exhibition by Vance Wright on view from May 27 to June 17th, Wednesdays to Saturdays from 1:00 – 5:00 PM.
Interested volunteers can sign-up for a whole four-hour hosting session or part. Contact info@oxygenartcentre.org to sign-up and for more information.MOREEMPLOYMENT OPPORTUNITY
Oxygen Art Centre is currently looking for a candidate to fulfil the role of Education Assistant. Funded by Canada Summer Jobs, the employment opportunity is open to students who intend to return to studies in the Fall of 2023.
Reporting to the Executive Director and working closely with the Education Coordinator, the Education Assistant will assist with day-to-day arts administrative duties, as well as conduct contemporary art research to support Oxygen's Education program. The employee will directly assist with the production, promotion, and communications of the Summer 2023 Youth Art Retreat, as well as the Fall 2023 and Spring 2024 Education program and adjunct educational materials. Taking place from May 29, 2023, to July 28, 2023, the Education Assistant's contract is nine weeks in length. The Education Assistant will work 30 hours a week (270 hours in total) at $17/ hour, both in-person and remotely. The ideal candidate is enrolled in a post-secondary program in Art History, Art Education, Curatorial Studies, Visual and/or Media Arts, Museum Studies, or a related discipline; Demonstrates a keen interest in contemporary art practices; Is responsible, hard-working, enthusiastic, and dynamic; and has a proven ability to communicate effectively. Interested applicants must be eligible through the Canada Summer Jobs program. Applications will be received by email until Friday, May 12, 2023, before 5:00 PM PST. More information about the position, the application requirements, and the artist-run centre can be found on Oxygen's website. Oxygen Art Centre is an equal opportunity employer. We thank all applicants for their interest, however only those selected for an interview will be contacted. MOREAUTHOR READING SERIES



10 May 2023 @ 4:00 PM PST (Zoom)
Canisia Lubrin
Jessica JohnsKrista Love (Student)
Register via EventBrite

Join us for the last event for the Spring 2023 Author Reading Series program featuring Canisia Lubrin and Jessica Johns, as well as Selkirk College Creative Writing Student Krista Love. Everyone welcome to attend. Admission is free. Learn more on our website.
REGISTER
ABOUT THE AUTHORS

CANISIA LUBRIN is an acclaimed poet, editor and writer. Her writings explore ideas of social justice and the limits and possibilities of art, form, and language. Her books include the story collection, Code Noir (Knopf, 2023). Her first book Voodoo Hypothesis (Wolsak & Wynn, 2017) was named a CBC Best Book. Her second book, The Dyzgraphxst (M & S, 2020) won the OCM Bocas Prize for Caribbean Poetry and the overall Literature prize, the Griffin Poetry Prize, and the Derek Walcott Prize. That same year, she was awarded the Canada Council's Joseph S. Stauffer prize for literary achievement and the Windham-Campbell prize for a body of work. Among other honours, her writing was finalist for the Governor General's Award, the Pat Lowther Memorial Award, and Trillium Book Award for Poetry. Anthologies that include her fiction were finalists for the Toronto Book Award and the Shirly Jackson Award. She was twice longlisted for the Journey Prize.
Lubrin is a 2022 Civitella Ranieri Fellow and has held writer residences at Queen's University and the appointed inaugural 2021 Shaftesbury Writer in Residence at Victoria College, University of Toronto, where she has taught creative writing. Lubrin previously taught at the Banff Centre, multiple community and literary organizations, and universities and colleges in Toronto. Her work is widely published and anthologized and has been translated into four languages. In 2021, the Globe & Mail's named Lubrin Poet of the Year. She is poetry editor at Canadian press McClelland & Stewart.
JESSICA JOHNS is a nehiyaw auntie with English-Irish ancestry and is a member of Sucker Creek First Nation in Treaty 8 territory in Northern Alberta. The former managing editor of Room magazine, she co-organizes the Indigenous Brilliance reading series. Johns's writing has been published in Grain, Glass Buffalo, SAD magazine, Red Rising Magazine and Canadian Art, among others. Her debut poetry chapbook, How Not to Spill, was a co-winner of the bpNichol Chapbook Award, and her short story "Bad Cree," upon which her novel is based, won the Writers' Trust of Canada Journey Prize and a silver medal at the National Magazine Awards.
KRISTA LOVE writes, directs, performs and teaches. She uses humour while exploring the vulnerabilities of being human. She has received critical acclaim for her writing and performances while touring self-produced plays across Canada. Krista has worked with many notable Canadian artists; playwright Ian Ross workshopping new Canadian works, played Toby in Toby's Made-Up Mind directed by George Toles; played The Caregiver in Guy Maddin's film Rooster Workbook; received a writing credit for Sparklehorse's music video "It's a Wonderful Life", directed by Guy Maddin. She has also written for CBC radio. After spending many years away from the stage teaching meditation and movement, Krista feels drawn to write and tell stories again. She has studied at Studio 58, The Canadian National Voice Intensive, Fantastic Space's Clown School and is currently a creative writing student at Selkirk College.REGISTER
Plan ahead! Oxygen's Fall 2023 Semester is now open for registration. Continue learning a medium, explore a new one, dream, sing, and gather together, make your own screen printed artist book, and learn to paint!

Learn about the classes, instructors, and how to register via our website. Spaces limited. Contact Natasha Smith (Education Coordinator) with questions or registration support.
REGISTERJOINSupport your artist-run centre by becoming an Oxygen Art Centre Member.

Oxygen Memberships run from $2 (Senior/Student) to $5 (Single) to $10 (Families) and significantly help our organization. Become a member today!

MEMBERSHIP BENEFITSEvents, Tours and Artist TalksVolunteer, Networking and Mentorship ExperienceRegular mailings and newslettersVoting Privileges at Oxygen Art Centre's AGMAccess to current Exhibition Publications and CataloguesArtist-in-Residence and Exhibition ToursRegister ONLINE or by MAIL
Already a Member? Consider making a Donation.REGISTERImages (top to bottom): (1) Promotional image for "Open Studio," Vance Wright, feat. "Proproception II," installation by Vance Wright, 2022; (2) Vance Wright, Courtesy the artist, 2022; (3) Promotional image for Call to Volunteers, 2023; (4) Installation view of Zoe Kreye, Uncommon Language exhibition at the Vancouver Art Gallery, October 17, 2020 to April 5, 2021; (5) Zoe Kreye; (6) OAC ARS poster, 2023; (7) Canisia Lubrin (L), Jessica Johns (R); (8) OAC 2023 Spring and Fall Semester promo image, 2023; (9) "Become a Member" text overlaid on an image documenting an installation in progress at Oxygen Art Centre, 2015;