Oxygen Art Centre is delighted to announce Jaymie Johnson + Keiko Lee-Hem as artists-in-residence from August 2 – 16, 2023 for the bathroom installation project!
The artists will be working on an immersive installation that is "inspired by the perfect pink and purple poppies growing in [their] gardens, and the refuge [they] each find in nature." The installation will replicate the inside of a poppy flower with the intention to "invite the occupant to escape the busy-ness of the outside world, into a serene yet whimsical space of year-round summertime simplicity."
This project is generously supported by the Canada Council for the Arts and will be on view (and use) for one-year. Stay tuned for updates, install documentation, and more!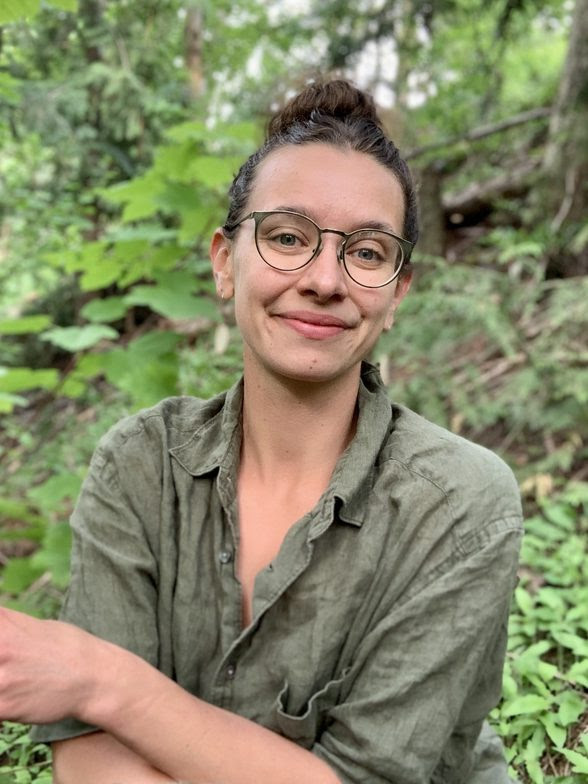 Jaymie Johnson is a multidisciplinary artist whose practice is rooted in investigating and building relationship with place through engagement with plants as subject matter and material. Her work spans drawing, printmaking, textiles, and community-engaged art.

Jaymie holds a BFA from Emily Carr University of Art + Design (2015) accompanied by mentorship in community engagement and public art from Sharon Kallis and Dr. Cameron Cartiere. She's facilitated public art projects and participated in residencies and exhibitions throughout BC.

Jaymie is from the East Shore of Kootenay Lake and is grateful to currently reside in Nelson, BC, the təmxʷulaʔxʷ of the Sinixt, and land connected to the Ktunaxa, Syilx, and Métis.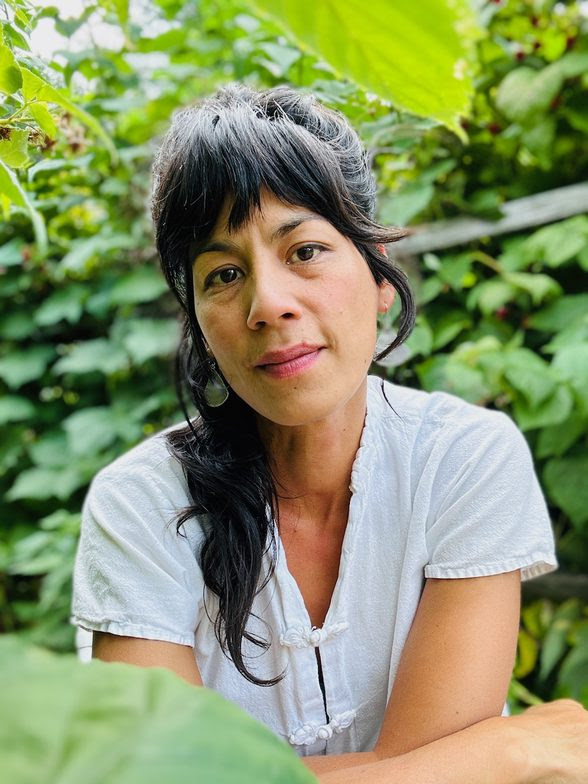 Keiko Lee-Hem's art practice allows her to slow down and slip into the present moment, escaping the busy-ness and distraction of the modern world and the digital life of her day job. Her practice allows her quality time noticing, savouring and recording the exquisite design and detail of her natural surroundings and helps her cope with sadness and anxiety caused by the passing of time, made evident by the waxing and waning of her garden and the growing up of her child on a changing planet.

Keiko holds a Bachelor of Fine Arts from Emily Carr University, which formed the foundation for her work today as a freelance graphic designer. In recent years she returned to the tactile experience of drawing, paper cut and printmaking, partly as a way to escape the digital realm, but also as a means for savouring the seasonal beauty of her natural surroundings, and for arresting the passage of time. LEARN MORECLOSUREOxygen Art Centre will be closed to the public from August 20 to September 4, 2023, to prepare for the second half of the year.
We look forward to returning with the Fall semester, events, workshops, and more!
XO2
OPEN HOUSE
Join us on Friday, September 8, 2023, for an Education program Open House from 5:00 PM to 7:00 PM. The public are invited to meet the artist instructors, take part in demonstrations, readings, and art-making activities, and learn more about the upcoming classes and workshops! Stop by to renew your membership or become a member, too!
Everyone welcome to attend. Admission is free or by donation.Light refreshments will be available.YOUTH EDUCATION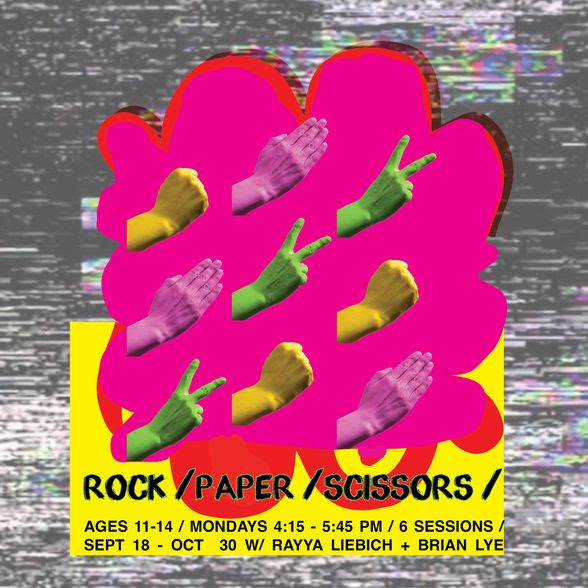 ROCK /PAPER / SCISSORS /IN PERSON @ OXYGEN ART CENTREWhen: 6 classes: September 18 – October 30, 2023 (no Class Oct. 9)
/Mondays, 4:15 pm – 5.45 pmWho: Youth, 11-14 yrsWith: 2 artist instructors:// Brian Lye – Filmmaker// Rayya Liebich – Poet & Writer
What: Join filmmaker Brian Lye, and poet Rayya Liebich on a multidisciplinary adventure to create a stop-motion animation film using an altered book as a springboard for story. Rayya will demonstrate how to write blackout poems, create book folds, and use decoupage techniques inside a hardcover book. Brian will then show you how to bring objects, words, and drawings to life using stop-motion animation. The culminating project will be a short movie of your chosen figurine/narrator literally jumping out of your book to tell a story through voice, image, and fun filming techniques. Come ready to learn, explore, and be amazed!
Student Fee: $60 (All materials included)Spaces limited!REGISTERWORM /HOLEIN PERSON @ OXYGEN ART CENTREWhen: 8 classes: September 22 – November 10, 2023 (no Class Oct. 6)/Fridays, 4:15 pm – 6:15 pm (2 hours)Who: Youth, 15-18 yrsWith: 3 artist instructors:// Catherine McIntosh – Visual Artist// Myra Rasmussen – Multi-disciplinary Artist// Marcus Dénommé – Printmaker
What: Join artists Myra Rasmussen, Marcus Dénommé, and Cath McIntosh on a journey into printmaking. Students will learn a variety of techniques and printmaking practices including monoprinting, lino printing, screenprinting, dry point + experimental low-tech methods. In the final session students will combine these techniques in a printmaking marathon to create unique art books, portfolio pieces, printed bags and clothes or posterzines. You choose! Enter a new spacetime continuum with a fun group of artists and fellow students to explore the dimensions of printmaking!
Student Fee: $85 (All materials included)Spaces limited!REGISTEROxygen's youth arts education programming is generously sponsored by the Nelson & District Credit Union and the Urban Systems Foundation.

FALL SEMESTERPlan ahead! Oxygen's Fall 2023 Semester is now open for registration. Continue learning a medium, explore a new one, dream, sing, and gather together, make your own screen printed artist book, and learn to paint!

Learn about the classes, instructors, and how to register via our website. Spaces limited. Contact Natasha Smith (Education Coordinator) with questions or registration support.
LEARN MORE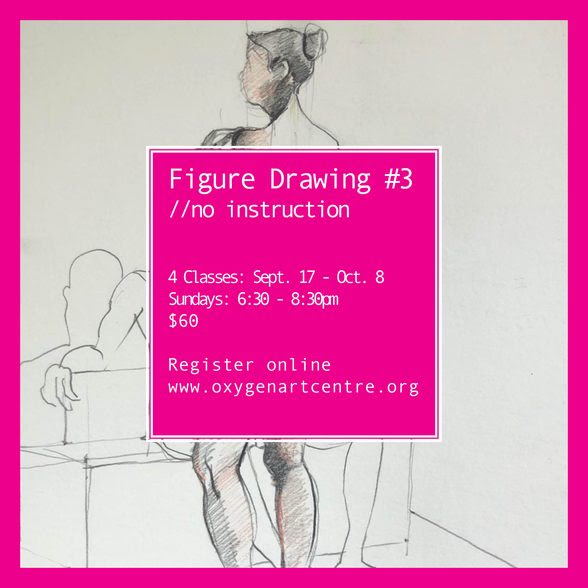 Figure Drawing #3 (no instruction)IN PERSON4 Classes: Sept 17, 24 Oct 1, 8Sundays: 6:30 – 8:30pm
Drawing sessions will provide the opportunity to draw from a model with poses ranging from 1 minute to 20 minutes. No instruction is offered. Students are expected to provide the drawing materials of their choice.TOTAL FEE: $60Registration Deadline: SEPTEMBER 8Only one space left, registration confirmation required.REGISTER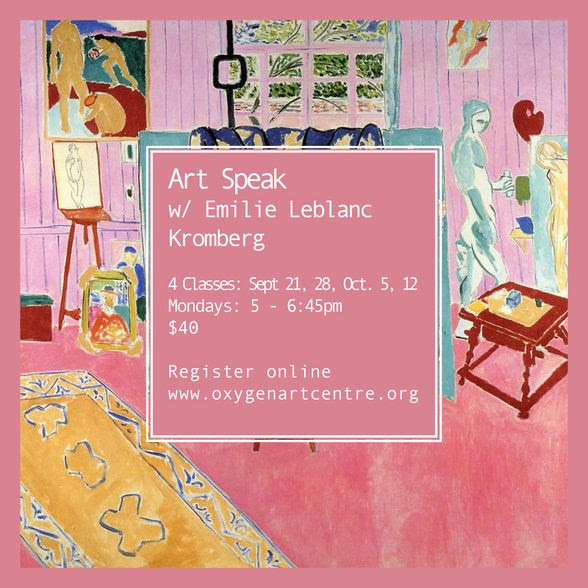 Art Speak – Peer to Peer Work Sharing Facilitated by Emilie Leblanc KrombergIN PERSON4 Classes: Sept 21, 28, Oct. 5, 12Thursdays: 5 – 6:45pm
Artists of all disciplines (professional or not) are invited to share their work in a safe space and engage in contemporary art dialogue with other open-minded art loving individuals. Themes will be proposed as a potential starting point for exchanges and artistic practices to grow collectively. The objective for this workshop is for artists to make, share, discuss, and learn together. TOTAL FEE: $40Registration Deadline: SEPTEMBER 14REGISTER
Dreaming into Poetry with Rose NielsenIN PERSON8 Classes: Sept. 19, 21, 26, 28, Oct. 3, 5, 10, 12Tues. & Thurs.: 10am – 12pm
This course offers a poetry-writing approach that looks through the lens of Jungian dreamwork as we search for images, symbols, and metaphors in our dreams, bringing unconscious material into consciousness. In the process, we will explore a variety of fixed form and free verse poetry to learn which forms might best serve the dream's tone and theme. TOTAL FEE: $230Registration Deadline: SEPTEMBER 12REGISTER
Balkan Choir with Bessie WappIN PERSON8 Classes: Sept. 21 – Nov. 9Thursdays: 7 – 9pm
Add your voice to the bold dissonance and clear sweetness of ancient multipart Eastern European a cappella songs of love and lust, harvest and hearth, wartime, badly arranged marriages, and drunken husbands. No prior experience required. In the last class we will enchant an audience with what we've learned. Material Fee: $10Course Fee: $230TOTAL FEE: $240Registration Deadline: SEPTEMBER 14REGISTER
Lino Printing – Making Greeting Cards and Exploring Colour with Myra RasmussenIN PERSON1 Class: Sept. 24Sunday: 1-4pm
In this class we will explore a few different ways to use colour in lino relief printmaking including rainbow rolls, coloured backgrounds, and reduction technique. Each participant will then carve and print one or two lino blocks (depending on time). We will work with 4" x 4.5" blocks, which are a perfect size to experiment with new techniques and to make handmade greeting cards. No previous lino printmaking experience required.Material Fee: $15 (all materials provided)Course Fee: $50TOTAL FEE: $65Registration Deadline: SEPTEMBER 15REGISTER
Drawing The Costumed Figure with Deborah ThompsonIN PERSON4 Classes: Oct. 4 – 25Wednesdays: 5:30 – 8:30pm
This four week imaginative and process-based course will focus on drawing skills through the study of the costumed figure. Staged poses with a costumed model will serve as the main prompt throughout the course. Review of primary drawing elements such as line, mark, value, and space will be covered as an introduction to the language of drawing. Specific exercises will explore compositional strategies, use of value or tonal range, and contrasting textures will be part of the curriculum. Studies will be used to develop a narrative drawing. Photographs taken of the model or from other sources will also be explored towards their use in developing a drawing. One-on-one and group critiques will be ongoing. Attention will be drawn to the use of the costumed figure throughout the history of art. Materials: graphite, coloured chalks, charcoal, conté, and a variety of papers.Note: This course is best suited to students with some previous drawing experience and an interest in exploring narrative qualities of the figure. Material Fee: $20 + Material ListCourse Fee: $205TOTAL FEE: $225Registration Deadline: SEPTEMBER 27REGISTER
The Screen Printed Artist Book with Marcus DénomméIN PERSON4 Classes: Oct. 3 – 24Tuesdays: 6 – 9 pm
A "Part 2" of the Intro to Screen Printing course from the spring semester, The Screen Printed Artist Book will take on a more ambitious project involving many colour layers and the complex nature of publication design and bookmaking. Each participant will leave with a limited edition of artist books, which will be hand bound and printed. Participants will also have a chance to learn about the process of publication design that uses tools such as Adobe InDesign. Basic screen printing knowledge is an asset.2 classes @ Afko.Sérigraphie studio (807 Baker St.), and 2 classes at OxygenMaterial Fee: $60 (all materials provided)Course Fee: $175TOTAL FEE: $235Registration Deadline: SEPTEMBER 26REGISTER
Keep on Keeping on with Susan Andrews GraceONLINE5 Classes: Oct. 4 – Nov. 1Wednesdays: 1:30 – 3:30 pm
Sometimes the hardest thing is keeping on. This workshop is suitable for poets at all levels; it offers a new beginning and keys to a sustainable practice. Whether you want to begin new poems or finish a book manuscript this writing workshop will help you trigger new energy and habits in your poetry practice.TOTAL FEE: $180Registration Deadline: SEPTEMBER 27REGISTER
Generative Sound for Analogue Film Projection with Kyle WhiteheadIN PERSON1 Class: Oct. 7Saturday: 10 am – 4:30 pm (1/2 hr lunch)
Kyle Whitehead's expanded-cinema projects IMMANENT UNION, Draft for a Scenario and Circles of Confusion leverage different approaches for creating generative soundscapes from analogue Super 8 film projections. In this workshop he will share strategies for creating custom electronic devices for the purpose of generating or modulating sound with light. Focusing on the use of Arduino and the powerful Mozzi synthesis library, workshop participants will learn how to build and customize their own light-controlled synthesizers to be used with projected film images, or any other light source.TOTAL FEE: $90 (All materials Included)Only 6 spaces availableRegistration Deadline: SEPTEMBER 29
…
[Message clipped] View entire message