SYNOPSISThis Super 8 film on two reels is a retrograde attempt to resolve a personal archive and index, confronting the inexorable passage of time into memory, memory into echo and echo into resonance. IMMANENT UNION was spliced together live over the course of six performances in Mexico, the United Kingdom and Canada – these Drafts for a Scenario facilitating an aleatory approach to the global composition of disparate memories, fleeting images of recorded time that have no story to tell. Performative in essence – where sound is modulated live by the projected light itself – this mystical union justifies an immanent plane as an act of pastoral simplicity. A divine presence.ARTIST BIO
Kyle Whitehead is Canadian artist, programmer and educator, who works with material film to create experimental and expanded cinema projects. His handmade films, moving image installations and projection performances trade in material self-consciousness, the artist's labours and elastic treatments of light, space and time. These works in film have exhibited internationally in numerous festivals, galleries and museums including CROSSROADS at the SF Cinematheque (USA), the Laboratorio Experimental de Cine (Mexico), Alchemy Film and Arts (Scotland), Antimatter Media Art (Canada), Contemporary Calgary (Canada), TRUCK Contemporary Art (Canada) and the Canadian Film Institute's Café EX (Canada).While visiting the region Kyle Whitehead will also offer a special workshop, Generative Sound for Analogue Film Projection on Saturday, October 7 from 10:00 AM to 4:30 PM ($90, all materials included). Register by September 29th to take part! Spaces limited.LEARN MORECOMMUNITY
Oxygen Art Centre presents a series of community art events entitled Lost Cat! Taking place during the Fall 2023 and Spring 2024 semesters, the series offers free art-making sessions with regional artists on a range of artistic mediums.
The first workshop of the series takes place *TODAY* Saturday, September 23, 2023, from 1:00 to 3:00 PM at Oxygen Art Centre. Artist and filmmaker Brian Lye leads the workshop, which explores phytograms on 16mm film.
Participants will make camera-less films using plants, vitamin C, washing soda, and motion picture film. We will use an eco-processing technique that involves laying plant matter directly on the film strip. The plant matter will leave an imprint on the film that will be projected at the end of the workshop. Participants need to be present for the entire two-hour workshop.
All materials provided. No experience necessary. Everyone welcome.Admission is free. Interested participants are expected to take part in the full two-hour session.
Contact us with any questions about the sessions or access needs to the facility.
Lost Cat! is generously supported by the Columbia Kootenay Cultural Alliance.LEARN MOREFALL SEMESTERRegister today! Spaces limited!
Oxygen's Fall 2023 Semester is open for registration. Continue learning a medium or explore a new one, dream, sing, and gather together, or make your own screen printed artist book!

Learn about the classes, instructors, and how to register via our website. Spaces limited. Contact Natasha Smith (Education Coordinator) with questions or registration support.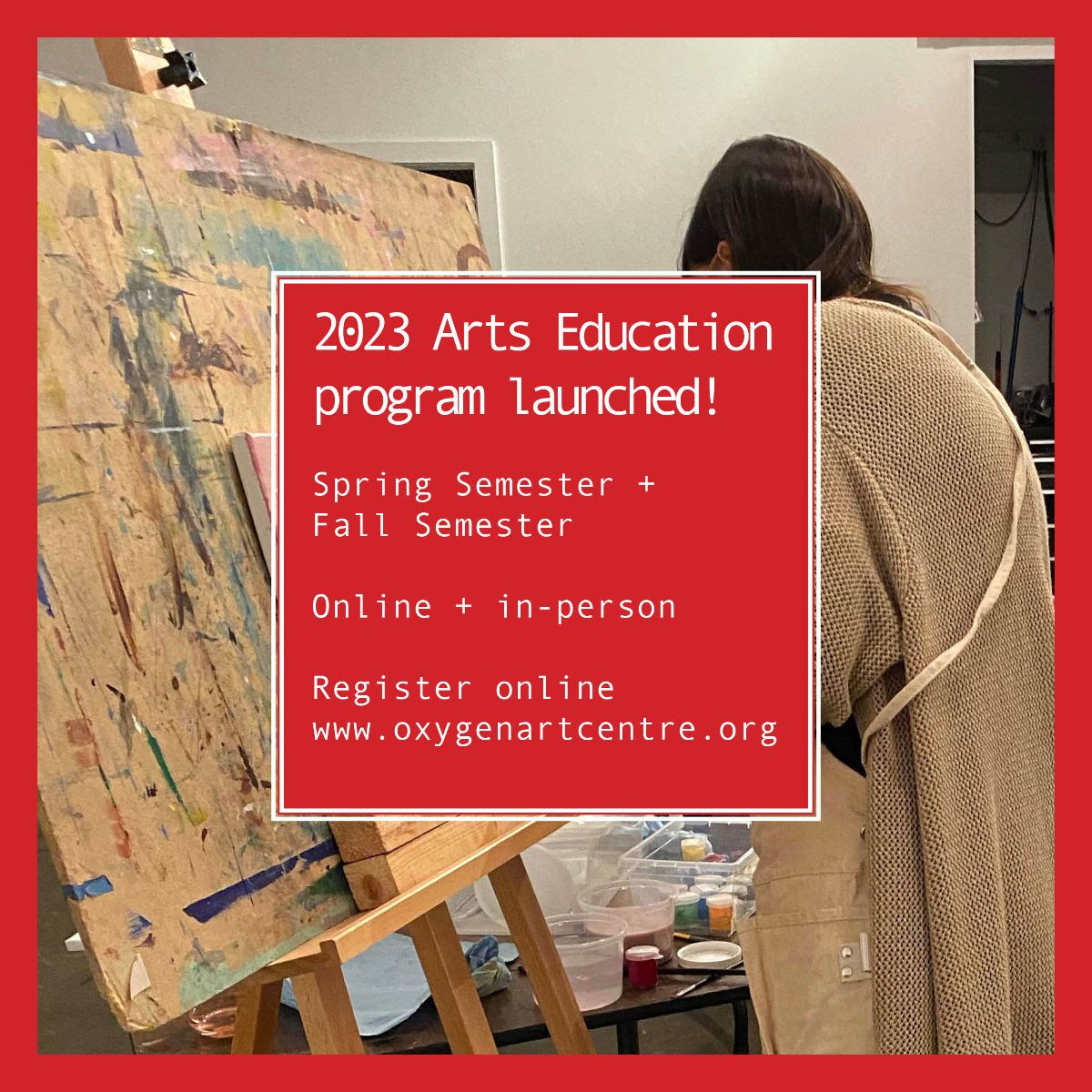 Let's Phytogram!
with Brian LyeIN PERSON1 Class: Oct. 1Sunday: 10 am – 4 pm (1hr lunch)
This 5-hour workshop will introduce participants to the process of making cameraless films using plants, vitamin C, washing soda, and 16mm motion picture film. We will use an eco-processing technique that involves laying plant matter directly on the film strip. Participants will initially work as a group to create a test phytogram film. After viewing the test film participants will have time to make a short independent work. All medium-specific materials included. Material Fee: $20Course Fee: $75TOTAL FEE: $95Registration Deadline: SEPTEMBER 25REGISTER
ONLINE Figure Drawing (No Instruction)via ZOOM5 Classes: Nov. 16, 23, 30, Dec. 7, 14Tuesdays: 6 – 8 pmCourse Description:This series of classes provides an opportunity to draw from a model from the comfort of your own home via Zoom . No instruction is offered and poses will range from 1 minute to 20 minutes. TOTAL FEE: $75Registration Deadline: NOVEMBER 7REGISTER
Letters to the Beyond with Rayya LiebichIN PERSON1 Class: Oct. 29Sunday: 10 am – 12 pm
Join poet and writer Rayya Liebich in this two hour workshop to write letters to your departed. In a safe space explore your grief through private writing and take some time to honour your loved ones. These letters can be delivered to the magical mailbox at the Remember The Dead event organized by the Polka Dot Dragon Arts Society's on Sunday November 5 (https://polkadotdragon.ca/) All writing materials, stationary and envelopes are being provided by the Polka Dot Dragon Arts Society.TOTAL FEE: $10Registration Deadline: OCTOBER 20REGISTER
Drawing The Costumed Figure with Deborah ThompsonIN PERSON4 Classes: Oct. 4 – 25Wednesdays: 5:30 – 8:30pm
This four week imaginative and process-based course will focus on drawing skills through the study of the costumed figure. Staged poses with a costumed model will serve as the main prompt throughout the course. Review of primary drawing elements such as line, mark, value, and space will be covered as an introduction to the language of drawing. Specific exercises will explore compositional strategies, use of value or tonal range, and contrasting textures will be part of the curriculum. Studies will be used to develop a narrative drawing. Photographs taken of the model or from other sources will also be explored towards their use in developing a drawing. One-on-one and group critiques will be ongoing. Attention will be drawn to the use of the costumed figure throughout the history of art. Materials: graphite, coloured chalks, charcoal, conté, and a variety of papers.Note: This course is best suited to students with some previous drawing experience and an interest in exploring narrative qualities of the figure. Material Fee: $20 + Material ListCourse Fee: $205TOTAL FEE: $225Registration Deadline: SEPTEMBER 27REGISTER
The Screen Printed Artist Book with Marcus DénomméIN PERSON4 Classes: Oct. 3 – 24Tuesdays: 6 – 9 pm
A "Part 2" of the Intro to Screen Printing course from the spring semester, The Screen Printed Artist Book will take on a more ambitious project involving many colour layers and the complex nature of publication design and bookmaking. Each participant will leave with a limited edition of artist books, which will be hand bound and printed. Participants will also have a chance to learn about the process of publication design that uses tools such as Adobe InDesign. Basic screen printing knowledge is an asset.2 classes @ Afko.Sérigraphie studio (807 Baker St.), and 2 classes at OxygenMaterial Fee: $60 (all materials provided)Course Fee: $175TOTAL FEE: $235Registration Deadline: SEPTEMBER 26REGISTER
Keep on Keeping on with Susan Andrews GraceONLINE5 Classes: Oct. 4 – Nov. 1Wednesdays: 1:30 – 3:30 pm
Sometimes the hardest thing is keeping on. This workshop is suitable for poets at all levels; it offers a new beginning and keys to a sustainable practice. Whether you want to begin new poems or finish a book manuscript this writing workshop will help you trigger new energy and habits in your poetry practice.TOTAL FEE: $180Registration Deadline: SEPTEMBER 27REGISTER
Generative Sound for Analogue Film Projection with Kyle WhiteheadIN PERSON1 Class: Oct. 7Saturday: 10 am – 4:30 pm (1/2 hr lunch)
Kyle Whitehead's expanded-cinema projects IMMANENT UNION, Draft for a Scenario and Circles of Confusion leverage different approaches for creating generative soundscapes from analogue Super 8 film projections. In this workshop he will share strategies for creating custom electronic devices for the purpose of generating or modulating sound with light. Focusing on the use of Arduino and the powerful Mozzi synthesis library, workshop participants will learn how to build and customize their own light-controlled synthesizers to be used with projected film images, or any other light source.TOTAL FEE: $90 (All materials Included)Only 6 spaces availableRegistration Deadline: SEPTEMBER 29REGISTER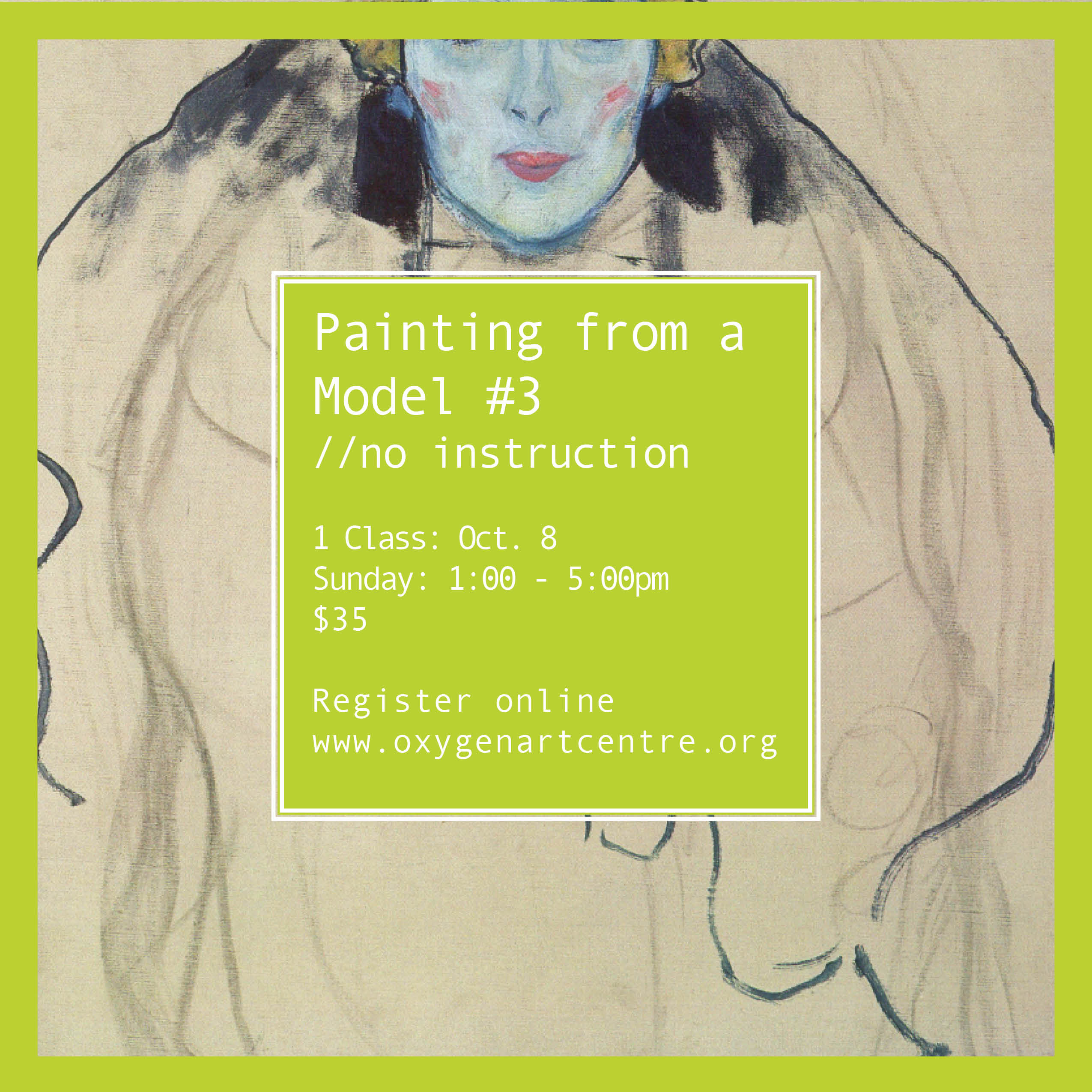 Painting from a Model #3 (No Instruction)IN PERSON1 class: Oct. 8Sunday 1 – 5 pm
Participants will have the opportunity to work from a model holding a single pose for an extended session (3.5 hours). No instruction is offered. Participants will be asked to bring their own materials in their preferred medium.TOTAL FEE: $35Registration Deadline: OCTOBER 2REGISTER
Poetry & Bookmaking with Rayya Liebich and Myra RasmussenIN PERSON1 Class: Oct. 14Saturday: 10 am – 3 pm (1hr lunch)
Join visual artist, Myra Rasmussen, and poet, Rayya Liebich on an interdisciplinary journey to create a handmade book with your original poetry inside. We will start by reading poems for inspiration and then move into a "patchwork poetry" writing activity. We will then explore a few techniques for creating handmade books. The afternoon will be devoted to each participant working on their own handmade book using mixed media, collage, and poems from the morning session.Material Fee: $5Course Fee: $95TOTAL FEE: $100Registration Deadline: OCTOBER 6REGISTER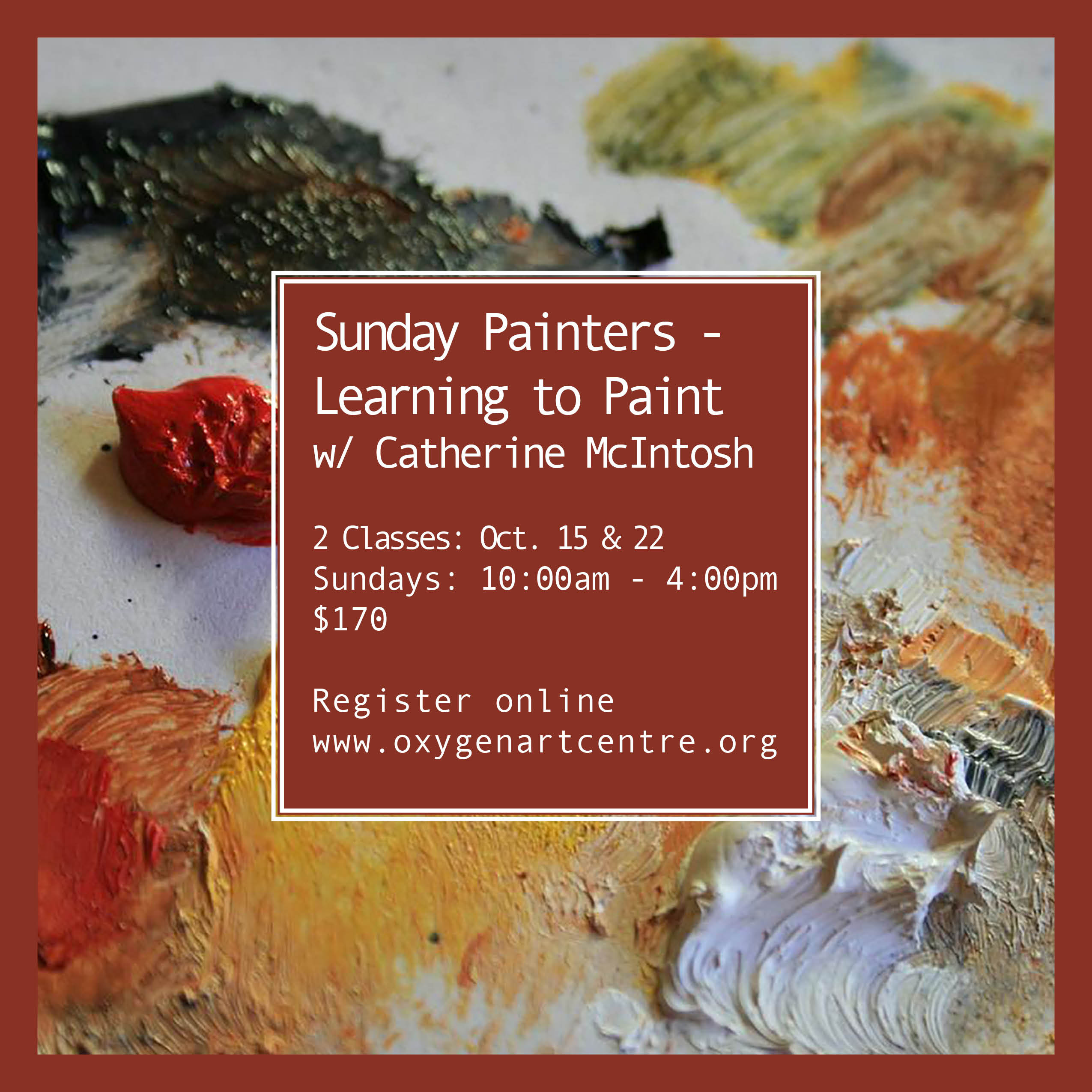 Sunday Painters – Learning to Paint with Catherine McIntoshIN PERSON2 Classes: Oct. 15 & 22Sundays: 10 am – 4 pm (1hr lunch)
This studio-based course will get you started painting with acrylics. The focus will be on still life painting where students will benefit by drawing and painting from direct observation. We will cover the use of materials, composition, colour, light, shadow, creating shapes, and building three-dimensional forms. Material Fee: $25Course Fee: $145TOTAL FEE: $170Registration Deadline: OCTOBER 6REGISTER
Figure Drawing #4 (no instruction)IN PERSON4 Classes: Oct. 15 – Nov. 5Sundays: 6:30 – 8:30 pm
Drawing sessions will provide the opportunity to draw from a model with poses ranging from 1 minute to 20 minutes. No instruction is offered. Students are expected to provide the drawing materials of their choice.TOTAL FEE: $60Registration Deadline: OCTOBER 6REGISTER
Playing with Shakespeare with Valerie CampbellIN PERSON2 Classes: Oct. 21 & 28Saturdays: 10 am – 4 pm
Calling all lovers of the Bard!This class is an immersive and experiential study of Shakespeare through the lens of the actor. Bringing Shakespeare's works to life with truthfulness and clarity is no small feat but as actors and non-actors alike will attest, the rewards of the work are incredible. This two-day workshop will deepen both your understanding and enjoyment of Shakespeare through performance, voice, and movement explorations.Come play, laugh, cry, and marvel at the genius of Shakespeare.TOTAL FEE: $170Registration Deadline: OCTOBER 16REGISTER
Remembrance Luminaries with Myra RasmussenIN PERSON1 Class: Oct. 29Sunday: 1 – 3 pm
In this class, visual artist Myra Rasmussen invites participants to make a lantern or luminary altar for an ancestor, friend, or relative that has passed on. We will explore collage, incorporation of text, and images, and some paper lantern making techniques. All participants are encouraged to bring their luminary to the Polka Dot Dragon Arts Society's celebration of All Souls on Sunday Nov, 5th. (https://polkadotdragon.ca/)Materials: Provided by the Polka Dot Dragon Arts SocietyTOTAL FEE: $10Registration Deadline: OCTOBER 20REGISTER
Hand – Eye – Heart – Drawing and Painting Intensive with Deborah ThompsonIN PERSON4 Classes: Nov. 6, 7, 8 & 9Mon. – Thurs: 10 am – 3 pm
This four-day intensive explores the affinities of art's beloved siblings: drawing and painting. The day will begin with playful drawing based exercises that explore form, space, and material. The afternoon will move into a translation of the drawn experience into a painted one. Topics to be covered will include; pictorial space, use of colour and value, and scale and mark making. Photographs, writing, objects, a life model, and still life materials will be referenced as departure points. Process over product will be emphasized in this dynamic intensive. The intensive is suited to anyone who wishes to