View this email in your browser
Event, Fall Semester, and more
EVENT
Kyle Whitehead IMMANENT UNION (2021) *TODAY* Friday, October 6, 2023 from 5:00 PM – 7:00 PM
Film screening with a Q&A period to follow.
Admission is free. Everyone welcome to attend.
SYNOPSISThis Super 8 film on two reels is a retrograde attempt to resolve a personal archive and index, confronting the inexorable passage of time into memory, memory into echo and echo into resonance. IMMANENT UNION was spliced together live over the course of six performances in Mexico, the United Kingdom and Canada – these Drafts for a Scenario facilitating an aleatory approach to the global composition of disparate memories, fleeting images of recorded time that have no story to tell. Performative in essence – where sound is modulated live by the projected light itself – this mystical union justifies an immanent plane as an act of pastoral simplicity. A divine presence.ARTIST BIO
Kyle Whitehead is Canadian artist, programmer and educator, who works with material film to create experimental and expanded cinema projects. His handmade films, moving image installations and projection performances trade in material self-consciousness, the artist's labours and elastic treatments of light, space and time. These works in film have exhibited internationally in numerous festivals, galleries and museums including CROSSROADS at the SF Cinematheque (USA), the Laboratorio Experimental de Cine (Mexico), Alchemy Film and Arts (Scotland), Antimatter Media Art (Canada), Contemporary Calgary (Canada), TRUCK Contemporary Art (Canada) and the Canadian Film Institute's Café EX (Canada).LEARN MOREFALL SEMESTERRegister today! Spaces limited!
Oxygen's Fall 2023 Semester Pt.2 is open for registration. Continue learning a medium or explore a new one, dream, sing, and gather together, or make your own screen printed artist book!

Learn about the classes, instructors, and how to register via our website. Spaces limited. Contact Natasha Smith (Education Coordinator) with questions or registration support.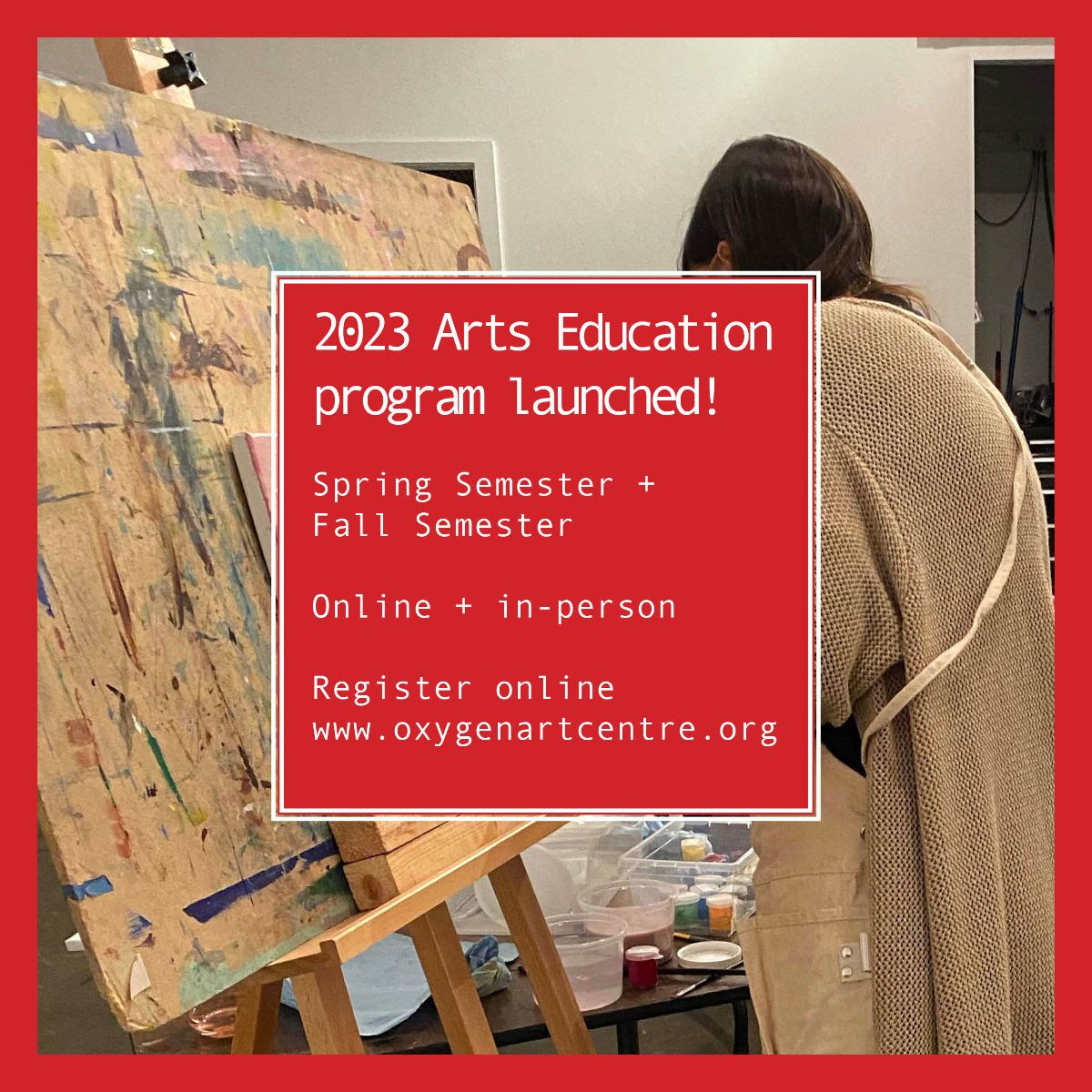 Letters to the Beyond with Rayya LiebichIN PERSON1 Class: Oct. 29Sunday: 10 am – 12 pm
Join poet and writer Rayya Liebich in this two hour workshop to write letters to your departed. In a safe space explore your grief through private writing and take some time to honour your loved ones. These letters can be delivered to the magical mailbox at the Remember The Dead event organized by the Polka Dot Dragon Arts Society's on Sunday November 5 (https://polkadotdragon.ca/) All writing materials, stationary and envelopes are being provided by the Polka Dot Dragon Arts Society.TOTAL FEE: $10Registration Deadline: OCTOBER 20REGISTER
ONLINE Figure Drawing (No Instruction)via ZOOM5 Classes: Nov. 16, 23, 30, Dec. 7, 14Tuesdays: 6 – 8 pm
This series of classes provides an opportunity to draw from a model from the comfort of your own home via Zoom . No instruction is offered and poses will range from 1 minute to 20 minutes. TOTAL FEE: $75Registration Deadline: NOVEMBER 7REGISTER
Poetry & Bookmaking with Rayya Liebich and Myra RasmussenIN PERSON1 Class: Oct. 14Saturday: 10 am – 3 pm (1hr lunch)
Join visual artist, Myra Rasmussen, and poet, Rayya Liebich on an interdisciplinary journey to create a handmade book with your original poetry inside. We will start by reading poems for inspiration and then move into a "patchwork poetry" writing activity. We will then explore a few techniques for creating handmade books. The afternoon will be devoted to each participant working on their own handmade book using mixed media, collage, and poems from the morning session.Material Fee: $5Course Fee: $95TOTAL FEE: $100Registration Deadline: OCTOBER 6REGISTER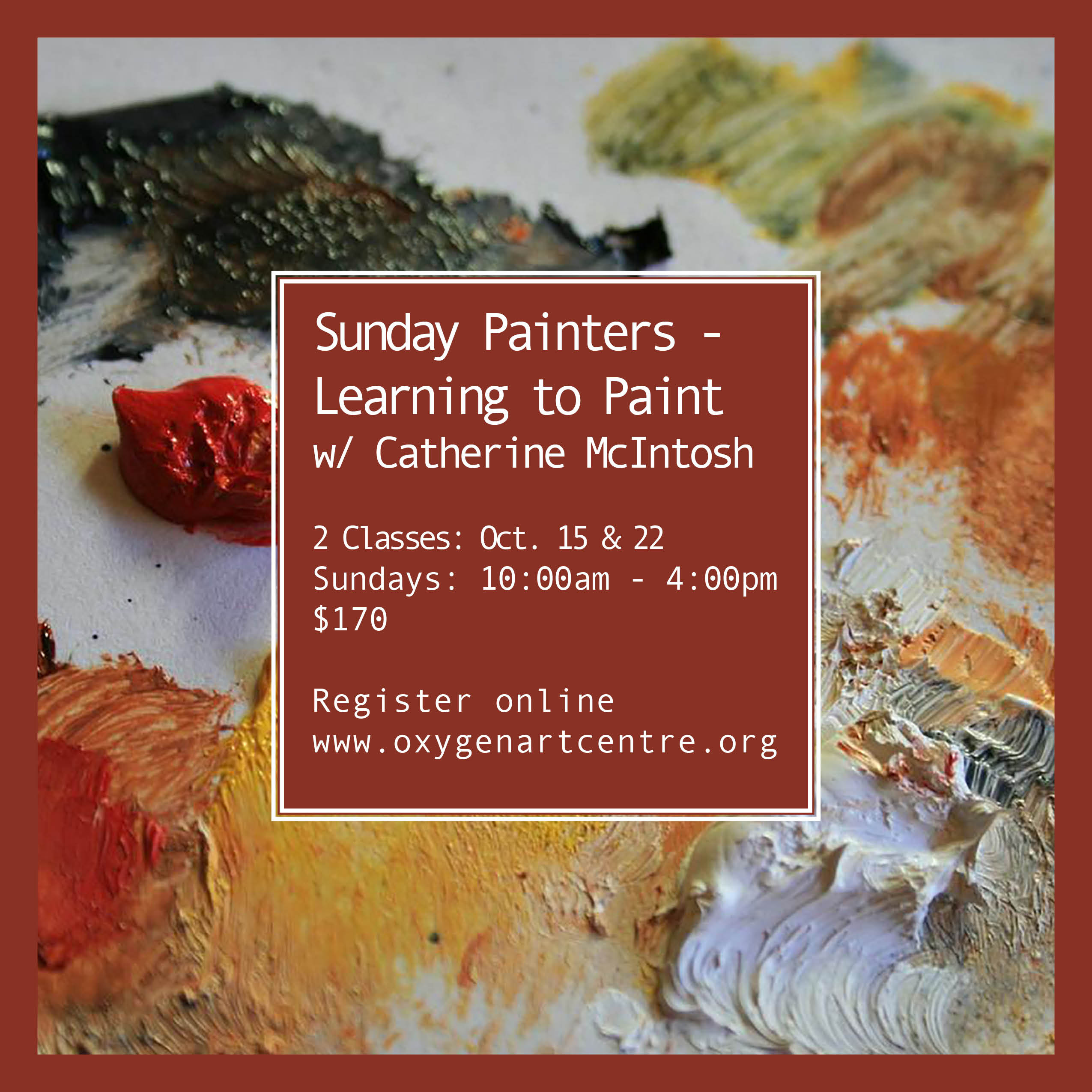 Sunday Painters – Learning to Paint with Catherine McIntoshIN PERSON2 Classes: Oct. 15 & 22Sundays: 10 am – 4 pm (1hr lunch)
This studio-based course will get you started painting with acrylics. The focus will be on still life painting where students will benefit by drawing and painting from direct observation. We will cover the use of materials, composition, colour, light, shadow, creating shapes, and building three-dimensional forms. Material Fee: $25Course Fee: $145TOTAL FEE: $170Registration Deadline: OCTOBER 6REGISTER
Figure Drawing #4 (no instruction)IN PERSON4 Classes: Oct. 15 – Nov. 5Sundays: 6:30 – 8:30 pm
Drawing sessions will provide the opportunity to draw from a model with poses ranging from 1 minute to 20 minutes. No instruction is offered. Students are expected to provide the drawing materials of their choice.TOTAL FEE: $60Registration Deadline: OCTOBER 6
CLASS FULL / REGISTER FOR WAITLISTREGISTER
Playing with Shakespeare with Valerie CampbellIN PERSON2 Classes: Oct. 21 & 28Saturdays: 10 am – 4 pm
Calling all lovers of the Bard!This class is an immersive and experiential study of Shakespeare through the lens of the actor. Bringing Shakespeare's works to life with truthfulness and clarity is no small feat but as actors and non-actors alike will attest, the rewards of the work are incredible. This two-day workshop will deepen both your understanding and enjoyment of Shakespeare through performance, voice, and movement explorations.Come play, laugh, cry, and marvel at the genius of Shakespeare.TOTAL FEE: $170Registration Deadline: OCTOBER 16REGISTER
Remembrance Luminaries with Myra RasmussenIN PERSON1 Class: Oct. 29Sunday: 1 – 3 pm
In this class, visual artist Myra Rasmussen invites participants to make a lantern or luminary altar for an ancestor, friend, or relative that has passed on. We will explore collage, incorporation of text, and images, and some paper lantern making techniques. All participants are encouraged to bring their luminary to the Polka Dot Dragon Arts Society's celebration of All Souls on Sunday Nov, 5th. (https://polkadotdragon.ca/)Materials: Provided by the Polka Dot Dragon Arts SocietyTOTAL FEE: $10Registration Deadline: OCTOBER 20REGISTER
Hand – Eye – Heart – Drawing and Painting Intensive with Deborah ThompsonIN PERSON4 Classes: Nov. 6, 7, 8 & 9Mon. – Thurs: 10 am – 3 pm
This four-day intensive explores the affinities of art's beloved siblings: drawing and painting. The day will begin with playful drawing based exercises that explore form, space, and material. The afternoon will move into a translation of the drawn experience into a painted one. Topics to be covered will include; pictorial space, use of colour and value, and scale and mark making. Photographs, writing, objects, a life model, and still life materials will be referenced as departure points. Process over product will be emphasized in this dynamic intensive. The intensive is suited to anyone who wishes to create a lot of new work by digging into the drawing process and its relationship to paint! Critiques will be part of this course to ask ourselves: " What if?"and "What would make it better?" and "What is working?"Material Fee: $25 + Material ListCourse Fee: $235TOTAL FEE: $260Registration Deadline: OCTOBER 30REGISTER
Magic of Memory 2 with Rayya LiebichONLINE4 Classes: Nov. 8 – 29Wednesdays: 6:30 – 8:30 pm
Memories can be written and recorded out of sequence and can stand alone. They can also be part of a larger collection (a memoir) that doesn't follow a linear arc. By borrowing the safety of craft structures, we can express our life stories in authentic and innovative ways. Each week we will take a deep-dive into a different literary form (Flash Nonfiction, Micro Memoir, the List Essay, and the Decentered Hermit Crab Essay). Each class will include a study of the craft, guided writing prompts, and readings by authors who push the boundaries of creative nonfiction (CNF). Come ready to experiment with form and structure and discover how constraints can create both safety and freedom. TOTAL FEE: $95Registration Deadline: NOVEMBER 1REGISTER
Painting from a Model #4 (No Instruction)IN PERSON1 Class: Nov. 12Sunday 1 – 5 pm
Participants will have the opportunity to work from a model holding a single pose for an extended session (3.5 hours). No instruction is offered.articipants will be asked to bring their own materials in their preferred medium.TOTAL FEE: $35Registration Deadline: NOVEMBER 6REGISTERJOINSupport your artist-run centre by becoming an Oxygen Art Centre Member.

Oxygen Memberships run from $2 (Senior/Student) to $5 (Single) to $10 (Families) and significantly help our organization. Become a member today!

MEMBERSHIP BENEFITSEvents, Tours and Artist TalksVolunteer, Networking and Mentorship ExperienceRegular mailings and newslettersVoting Privileges at Oxygen Art Centre's AGMAccess to current Exhibition Publications and CataloguesArtist-in-Residence and Exhibition ToursRegister ONLINE or by MAIL
Already a Member? Consider making a Donation.REGISTERImages (top to bottom): (1 & 2) Kyle Whitehead, IMMANENT UNION, 2021, documentation; Courtesy the Artist; (3) Kyle Whitehead headshot; Courtesy the Artist; (4 – 14) OAC 2023 Fall Semester promo images, 2023; (15) "Become a Member" text overlaid on an image documenting an installation in progress at Oxygen Art Centre, 2015;
Oxygen Art Centre
info@oxygenartcentre.org
#3- 320 Vernon St. (alley entrance) Nelson, B.C. V1L 4E4 Canada
250-551-6329
Facility access information

Hours of Operation: Wednesdays – Saturdays, 1:00 – 5:00pm (during exhibition run)
Admission by donation

Oxygen Art Centre acknowledges with gratitude that we are located on the tum xula7xw/ traditional territory of the sn̓ʕay̓ckstx/the Sinixt People. As uninvited guests we honour their ongoing presence on this land. We recognize that the Sylix, Ktuxana, and Yaqan Nukij Lower Kootenay Band peoples are also connected with this land, as are Métis and many diverse Indigenous persons.

We are grateful for the financial support we receive from Canada Council for the Arts, BC Arts Council, BC Gaming, Province of BC, Government of Canada, Vancouver Foundation, Columbia Kootenay Cultural Alliance, Columbia Basin Trust, United Way, Osprey Community Foundation, Nelson Lions Club, and Nelson and District Credit Union.

We offer thanks to Elephant Mountain Literary Festival and other key partners including Hall Printing, Speedpro Signs, and Selkirk College for their support.

We especially thank all of our volunteers, donors, and members.

Oxygen Art Centre is committed to ensuring all exhibitions, programs, and events are accessible to visitors. Our facilities are wheelchair accessible and equipped with an all-genders washroom. Please contact Oxygen if you have any questions or concerns about your visit.Copyright © 2023 Oxygen Art Centre, All rights reserved. Thank you for supporting Oxygen Art Centre!

Our mailing address is:
Oxygen Art Centre#3-320 Vernon StreetNelson, British ColumbiaV1L 4E4Canada