View this email in your browser
Lost Cat!, AGM, Education, Exhibition, and more
COMMUNITY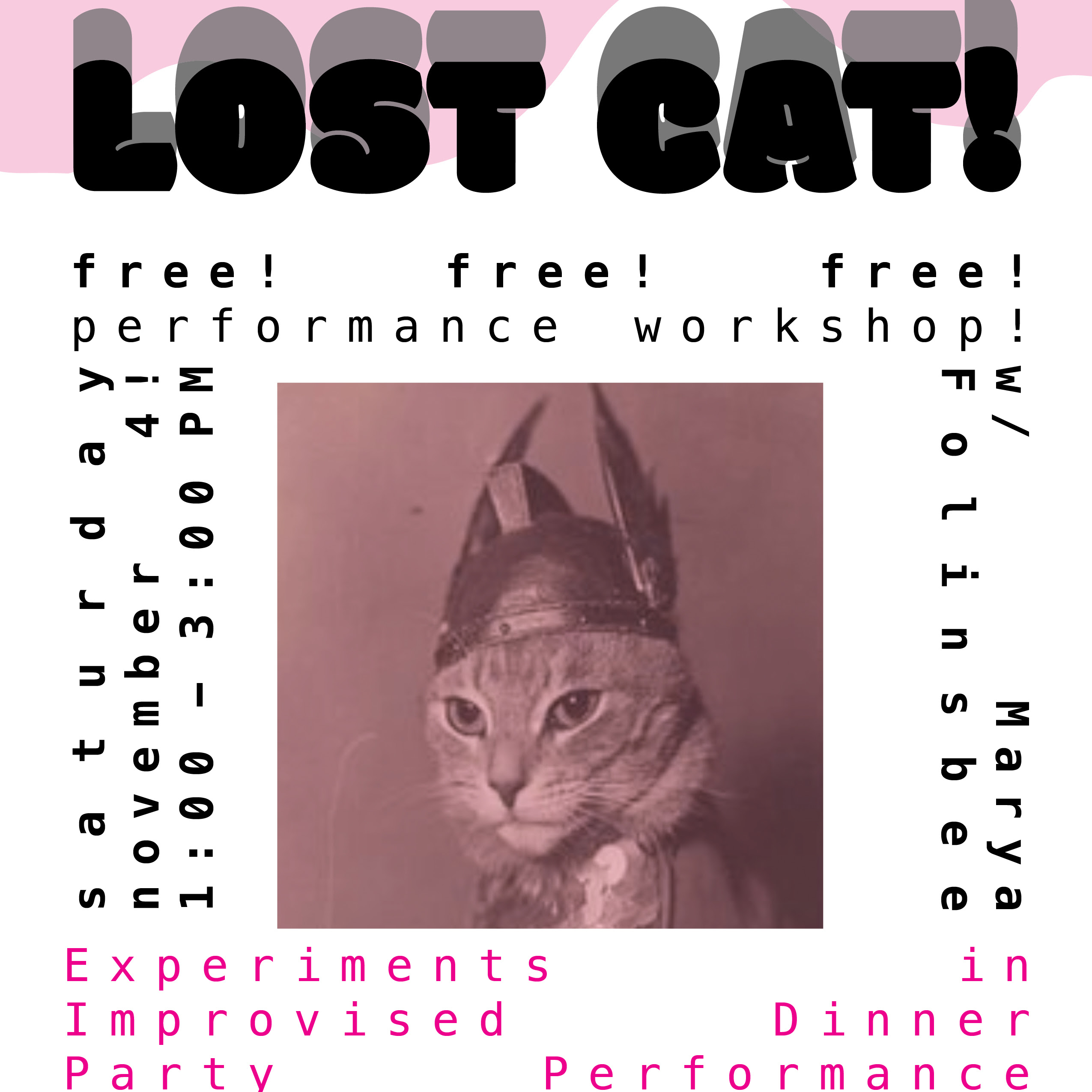 Experiments in Improvised Dinner Party Performance with Marya FolinsbeeSaturday, November 4, 20231:00 PM to 3:00 PMWhere: Oxygen Art Centre, #3-320 Vernon St. (alleyway access behind Baker St.)Admission is free
The second Lost Cat! workshop takes place on Saturday, November 4, 2023, from 1:00 to 3:00 PM at Oxygen Art Centre. Clown, actor, playwright, and teaching artist Marya Folinsbee leads the workshop, which will guide participants in experimental participatory theatre practices.
In this workshop, participants will be guided in the use of theatre and clown techniques to create and embody an original character. Those characters will then gather for an improvised, hour-long "dinner party" where the collective maintains their fictional characters for a performance art "meal."
Props, costumes, prompts, and wrinkles will be provided by the Host to enhance the improvisatory experience. The goal of this workshop is to create a safe container for a bizarre and committed theatrical improvisation where participants can play with creative character building, improvisation, and collective performance art.
The public are invited to attend the second Lost Cat! event at Oxygen Art Centre on Saturday, November 4, 2023, from 1:00 to 3:00 PM. All materials provided. No experience necessary. Interested participants are expected to take part in the full two-hour session. Contact Oxygen Art Centre with any questions about the sessions or access needs to the facility.
Lost Cat! is generously supported by the Columbia Kootenay Cultural Alliance. Learn more about upcoming events via Oxygen's website and social media.
ARTIST BIO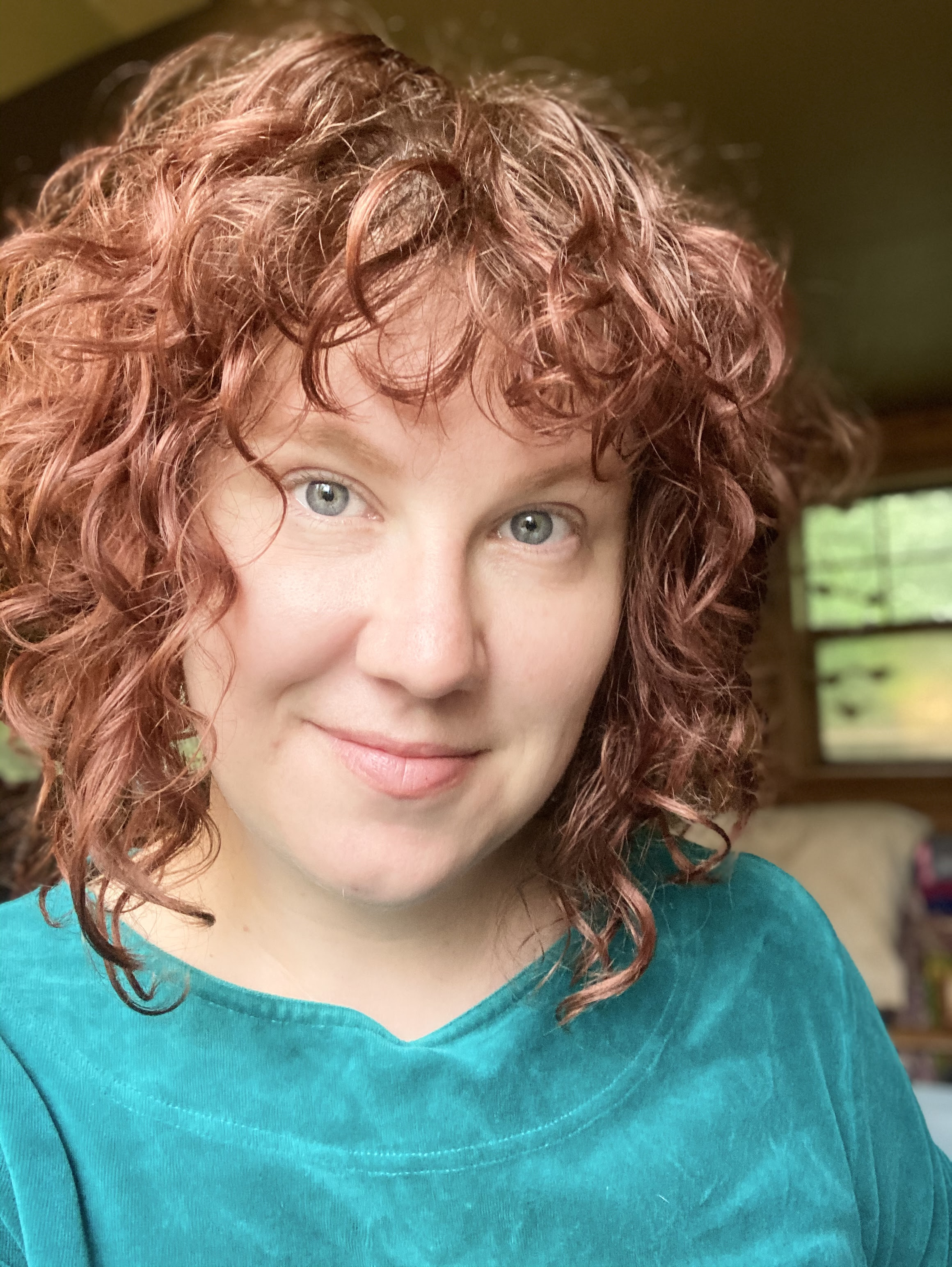 Marya Folinsbee is a clown, actor, playwright, and teaching artist from Edmonton/Amiskwaciy Waskahikan, who now lives in the Slocan Valley/Sinixt Territory, in the West Kootenays. Marya loves to explore the confluences of theatre and everyday life, seeking to cultivate interactive, flexible, curious, and open-ended performance spaces that blur the lines between performer and audience, art and the ordinary.
Marya studied theatre at the Victoria School of the Arts and McMaster University, and independently with artists including David Diamond (Theatre for Living), Jon Davison (London Clown School), Deanna Fleysher (Don't Call it Clown), and others. Writing credits include "In Transit" (Nextfest 2001); "Be/Longing" (2018, co-written with Martina Avis); and "Domesticated Disputes" (2020, AKA "Immaculate"). Marya devises and performs interactive theatre performances and installations, facilitates clown and theatre workshops for all ages, and is currently writing several new works – Buttons & Pockets, PLAY! and The Mosquitos.
LEARN MORENOTICE OF AGMOxygen Art Centre's Annual General Meeting (AGM) will review the 2022 – 2023 year. The community are invited to learn about the artist-run centre's programming highlights and financial reporting. Renew or become a member prior to the meeting to vote. Oxygen memberships range from $2 – $10 and directly support the artist-run centre!
Tuesday, November 21, 2023, at 5:00 PM
Duration: 30 – 45 minutesEveryone welcome! Admission is free. In person:Kootenay Studio Arts at Selkirk College
Room 311, 606 Victoria St, Nelson, BC V1L 4J4Attendees can expect someone to greet you at the entrance of the KSA building. Light refreshments will be provided. Online:ZoomRegister in advance for this meeting, here. After registering, you will receive a confirmation email containing information about joining the meeting.
LEARN MORE
REGISTER (ZOOM)
FALL SEMESTER
Letters to the Beyond with Rayya LiebichIN PERSON1 Class: Oct. 29Sunday: 10 am – 12 pm
Join poet and writer Rayya Liebich in this two hour workshop to write letters to your departed. In a safe space explore your grief through private writing and take some time to honour your loved ones. These letters can be delivered to the magical mailbox at the Remember The Dead event organized by the Polka Dot Dragon Arts Society's on Sunday November 5 (https://polkadotdragon.ca/) All writing materials, stationary and envelopes are being provided by the Polka Dot Dragon Arts Society.TOTAL FEE: $10Registration Deadline: OCTOBER 20REGISTER
ONLINE Figure Drawing (No Instruction)via ZOOM5 Classes: Nov. 16, 23, 30, Dec. 7, 14Tuesdays: 6 – 8 pm
This series of classes provides an opportunity to draw from a model from the comfort of your own home via Zoom . No instruction is offered and poses will range from 1 minute to 20 minutes. TOTAL FEE: $75Registration Deadline: NOVEMBER 7REGISTER
Remembrance Luminaries with Myra RasmussenIN PERSON1 Class: Oct. 29Sunday: 1 – 3 pm
In this class, visual artist Myra Rasmussen invites participants to make a lantern or luminary altar for an ancestor, friend, or relative that has passed on. We will explore collage, incorporation of text, and images, and some paper lantern making techniques. All participants are encouraged to bring their luminary to the Polka Dot Dragon Arts Society's celebration of All Souls on Sunday Nov, 5th. (https://polkadotdragon.ca/)Materials: Provided by the Polka Dot Dragon Arts SocietyTOTAL FEE: $10Registration Deadline: OCTOBER 20REGISTER
Hand – Eye – Heart – Drawing and Painting Intensive with Deborah ThompsonIN PERSON4 Classes: Nov. 6, 7, 8 & 9Mon. – Thurs: 10 am – 3 pm
This four-day intensive explores the affinities of art's beloved siblings: drawing and painting. The day will begin with playful drawing based exercises that explore form, space, and material. The afternoon will move into a translation of the drawn experience into a painted one. Topics to be covered will include; pictorial space, use of colour and value, and scale and mark making. Photographs, writing, objects, a life model, and still life materials will be referenced as departure points. Process over product will be emphasized in this dynamic intensive. The intensive is suited to anyone who wishes to create a lot of new work by digging into the drawing process and its relationship to paint! Critiques will be part of this course to ask ourselves: " What if?"and "What would make it better?" and "What is working?"Material Fee: $25 + Material ListCourse Fee: $235TOTAL FEE: $260Registration Deadline: OCTOBER 30REGISTER
Magic of Memory 2 with Rayya LiebichONLINE4 Classes: Nov. 8 – 29Wednesdays: 6:30 – 8:30 pm
Memories can be written and recorded out of sequence and can stand alone. They can also be part of a larger collection (a memoir) that doesn't follow a linear arc. By borrowing the safety of craft structures, we can express our life stories in authentic and innovative ways. Each week we will take a deep-dive into a different literary form (Flash Nonfiction, Micro Memoir, the List Essay, and the Decentered Hermit Crab Essay). Each class will include a study of the craft, guided writing prompts, and readings by authors who push the boundaries of creative nonfiction (CNF). Come ready to experiment with form and structure and discover how constraints can create both safety and freedom. TOTAL FEE: $95Registration Deadline: NOVEMBER 1REGISTER
Painting from a Model #4 (No Instruction)IN PERSON1 Class: Nov. 12Sunday 1 – 5 pm
Participants will have the opportunity to work from a model holding a single pose for an extended session (3.5 hours). No instruction is offered.articipants will be asked to bring their own materials in their preferred medium.TOTAL FEE: $35Registration Deadline: NOVEMBER 6REGISTERUPCOMING
The Hungry Mist (A Névoa Faminta)
Group exhibition
Curated by Rodrigo D'Alcântara
Artists: Bento Leite, Dyó Potyguara, Simon(e) Pateau
Residency: 13 – 30 November 2023
Exhibition: 1 December 2023 – 3 February 2024
Oxygen Art Centre is delighted to present the group exhibition, The Hungry Mist (A Névoa Faminta) guest curated by Rodrigo D'Alcântara (Brazil/Canada) featuring international artists Bento Leite (Brazil), Dyó Potyguara (Brazil), and Simon(e) Jakiriuma Pateau (Germany/Colombia). Guest curator Rodrigo D'Alcântara conceived of the exhibition as a response to the global pandemic alongside the very state of collapse and acute uncertainties of life caused by the current neo-colonial system. D'Alcântara's curatorial practice focuses on Brazilian contemporary art and Latin American futurisms and continues this research as a doctoral candidate at Concordia University (Montréal, Canada). The Hungry Mist (A Névoa Faminta) as a concept and exhibition title draws on spiritual implications of the pandemic. It directly alludes to an Indigenous Brazilian Guarani-Nhadeva cosmology that foresaw an invisible smoke arriving to take people's lives. At once concerning the material and ephemeral, The Hungry Mist (A Névoa Faminta) looks to repetitions of systemic colonial violence on bodies, the land, and our communities to contend with the present towards alternative futurities. Prior to the exhibition, Oxygen Art Centre will host the curator and artists on the tum xula7xw of the sn̓ʕay̓ckstx, otherwise known as Nelson, B.C., for a three-week residency program from November 13, 2023, to November 30, 2023. The residency creates space for the group to engage with exhibition thematic and to work collaboratively on new process-based pieces that will be presented alongside existing multimedia and two-dimensional artworks in the exhibition. The public will be invited to a series of adjunct programming and events to meet with the artists and learn more about their practices. The exhibition will be on view from December 1, 2023, to February 3, 2024. Oxygen Art Centre will be open Wednesdays to Saturdays from 1:00 to 5:00 PM throughout the exhibition run. Exhibition didactics will be available in both Portuguese and English, translated by Lara Bourdin (Montréal, Canada). Promotional materials feature design by Keiko Lee-Hem (Nelson, Canada). An exhibition catalogue including documentation, curatorial texts and art writing responding to the project will be available shortly following the exhibition close. This project is generously supported by the Canada Council for the Arts, the British Columbia Arts Council, the Columbia Kootenay Cultural Alliance, and the Regional District of Central Kootenay.LEARN MOREJOINSupport your artist-run centre by becoming an Oxygen Art Centre Member.

Oxygen Memberships run from $2 (Senior/Student) to $5 (Single) to $10 (Families) and significantly help our organization. Become a member today!

MEMBERSHIP BENEFITSEvents, Tours and Artist TalksVolunteer, Networking and Mentorship ExperienceRegular mailings and newslettersVoting Privileges at Oxygen Art Centre's AGMAccess to current Exhibition Publications and CataloguesArtist-in-Residence and Exhibition ToursRegister ONLINE or by MAIL
Already a Member? Consider making a Donation.REGISTERImages (top to bottom): (1) LOST CAT! Promotional material for Event #2, 2023; (2) Marya Folinsbee headshot, Courtesy the Artist; (3) OAC Notice of AGM Promotional material, 2023; (4 – 10) OAC 2023 Fall Semester promo images, 2023; (11) Aribada, Simon(e) Jaikiriuma Paetau & Natalia Escobar in collaboration with Zamanta Enevia, Video, DCP, 5,1 sound, 30 min, 2022; (12) "Become a Member" text overlaid on an image documenting an installation in progress at Oxygen Art Centre, 2015;
Oxygen Art Centre
info@oxygenartcentre.org
#3- 320 Vernon St. (alley entrance) Nelson, B.C. V1L 4E4 Canada
250-551-6329
Facility access information

Hours of Operation: Wednesdays – Saturdays, 1:00 – 5:00pm (during exhibition run)
Admission by donation

Oxygen Art Centre acknowledges with gratitude that we are located on the tum xula7xw/ traditional territory of the sn̓ʕay̓ckstx/the Sinixt People. As uninvited guests we honour their ongoing presence on this land. We recognize that the Sylix, Ktuxana, and Yaqan Nukij Lower Kootenay Band peoples are also connected with this land, as are Métis and many diverse Indigenous persons.

We are grateful for the financial support we receive from Canada Council for the Arts, BC Arts Council, BC Gaming, Province of BC, Government of Canada, Vancouver Foundation, Columbia Kootenay Cultural Alliance, Columbia Basin Trust, United Way, Osprey Community Foundation, Nelson Lions Club, and Nelson and District Credit Union.

We offer thanks to Elephant Mountain Literary Festival and other key partners including Hall Printing, Speedpro Signs, and Selkirk College for their support.

We especially thank all of our volunteers, donors, and members.

Oxygen Art Centre is committed to ensuring all exhibitions, programs, and events are accessible to visitors. Our facilities are wheelchair accessible and equipped with an all-genders washroom. Please contact Oxygen if you have any questions or concerns about your visit.