RESIDENCYThe Hungry Mist (A Névoa Faminta)
Curated by Rodrigo D'Alcântara
Residency: 13 – 30 November 2023
Artists: Bento Leite, Dyó Potyguara, Simon(e) Jakiriuma Paetau w/ guest artist Cecilia Vilca
Public Workshop: Friday, November 17, 2023, from 10:00 AM – 12:00 PM (In-person & Zoom)
Open Studio: Saturday, November 25, 2023, from 1:00 – 3:00 PM (Zoom)
Opening Reception: Friday, December 1, 2023, from 5:00 – 7:00 PM (In-person & Zoom)

Exhibition: 1 December 2023 – 3 February 2024
Artists: Bento Leite, Dyó Potyguara, Simon(e) Jakiriuma Paetau
Prior to the exhibition, Oxygen Art Centre hosts D'Alcântara, Leite, and Jakiriuma Paetau on the tum xula7xw of the sn̓ʕay̓ckstx, otherwise known as Nelson, B.C., for a three-week residency program from November 13, 2023, to November 30, 2023. Artist Potyguara is joined by transdiscipinary artist, feminist chola techno-witch and language activist Cecilia Vilca remotely via online platforms from Brazil and Peru, respectively. The residency creates space for the group to engage with exhibition thematic and to work collaboratively on new process-based pieces that will be presented alongside existing multimedia and two-dimensional artworks in the exhibition.PUBLIC WORKSHOPDrawing Flux 1 / Fluxo de Desenho 1: In-nature Immersion, Fantasy & Anti-colonial Gaze
Date: Friday, November 17, 2023 @ 10:00 AM – 12:00 PM (Nelson PST)
Format: In-person (meet at Oxygen Art Centre) OR Online (Zoom)
In this first workshop of the residency, the curator will lead a free drawing workshop in which the artists and the public will be encouraged to think in fantastic terms in relation with their surrounding natural environments.
The online artists must already be located in a place where one can feel a sense of immersion in nature in their respective cities at the time of the Zoom call. Further instructions will be given on the workshop day.
Nessa primeira oficina da residência, o curador guiará uma oficina de desenho livre na qual es artistas serão estimulades a pensarem de forma fantástica em relação à integração com a natureza local de Nelson [parque será anunciado]. 10h a 12h, Nelson.
Na ocasião da chamada Zoom, as artistas online devem já estar localizadas em local no qual se possa sentir um sentido de imersão na natureza em suas respectivas cidades. Instruçōes adicionais serão dadas no dia da oficina.
In-person, Oxygen Art Centre (#3-320 Vernon St., Nelson, BC: alleyway entrance)
Online, Zoom Link: https://us02web.zoom.us/j/83058833318?pwd=cGo1NUxwRFJhOXBCc0tmWkpvZzM4QT09 (Meeting ID: 830 5883 3318 / Passcode: 575954)
+ Suggested Material / Material sugerido: Capikarã (Dir. Rodrigo D'Alcantara, 2019) – password: sincretica
Admission is free. No registration required.OPEN STUDIO
Date: Saturday, November 25, 2023 @ 1:00 – 3:00 PM (Nelson PST)
Format: Online (Zoom): https://us02web.zoom.us/j/81049822954?pwd=a0FDUHNrRlh2bncrOStNb3A5dys3Zz09
(Meeting ID: 810 4982 2954 / Passcode: 140675)
The public is invited to meet with the artists and curator at an online Open Studio event on Saturday, November 25, 2023, from 1:00 to 3:00 PM (Zoom). This event is free to attend and will be an opportunity to learn more about each artist, the curator, and their practices, as well as their experiences working together during the residency itself.
Ateliês Abertos Online: Dyó Potyguara & Cecilia Vilca. As artistas residentes online abrirão seu ateliê para agentes culturais e público geral de Nelson. A sessão será exibida de forma online e transmitida na OAC. Artistas terão tempo para dedicarem-se a seus processos criativos.
Admission is free. No registration required.OPENING RECEPTION
Date: Friday, December 1, 2023 @ 5:00 – 7:00 PM (Nelson PST)
Format: In-person @ Oxygen Art Centre & Online (Zoom): https://us02web.zoom.us/j/83574238702?pwd=d3ZIVkZ2UkNmb0dDNk1MRElyTGVQQT09
(Meeting ID: 835 7423 8702 / Passcode: 891009)
We close the residency program with an Opening Reception on Friday, December 1, 2023, from 5:00 to 7:00 PM (In-person/Zoom). The public is invited to join in the festivities as we gather to mark the opening of The Hungry Mist (A Névoa Faminta). The artists and curator will be in attendance, both at Oxygen Art Centre's facility and online via Zoom. The event will include performances and light refreshments to celebrate the opening of the group exhibition and the ending of the three-week residency.
Possíveis performances des artistas em residência ocorrerão como parte da abertura. Haverá uma lista de músicas organizadas pelo curador que serão tocadas durante todo o evento (es artistas também são bem-vindes a colaborar). O evento ocorrerá das 17:00 às 19:00 horas. Haverá bebidas leves disponíveis.
Admission is free. No registration required.EXHIBITION
The Hungry Mist (A Névoa Faminta)
Curated by Rodrigo D'Alcântara
Artists: Bento Leite, Dyó Potyguara, Simon(e) Jakiriuma Paetau1 December 2023 – 3 February 2024
Hours of Operation: Wednesdays to Saturdays, 1:00 to 5:00 PM
Admission is free.
Oxygen Art Centre presents the group exhibition, The Hungry Mist (A Névoa Faminta) guest curated by Rodrigo D'Alcântara (Brazil/Canada) featuring international artists Bento Leite (Brazil), Dyó Potyguara (Brazil), and Simon(e) Jakiriuma Paetau (Germany/Colombia).
Guest curator Rodrigo D'Alcântara conceived of the exhibition as a response to the global pandemic alongside the very state of collapse and acute uncertainties of life caused by the current neo-colonial system. D'Alcântara's curatorial practice focuses on Brazilian contemporary art and Latin American futurisms and continues this research as a doctoral candidate at Concordia University (Montréal, Canada).
The Hungry Mist (A Névoa Faminta) as a concept and exhibition title draws on spiritual implications of the pandemic. It directly alludes to an Indigenous Brazilian Guarani-Nhadeva cosmology that foresaw an invisible smoke arriving to take people's lives. At once concerning the material and ephemeral, The Hungry Mist (A Névoa Faminta) looks to repetitions of systemic colonial violence on bodies, the land, and our communities to contend with the present towards alternative futurities.
Exhibition didactics will be available in both Portuguese and English, translated by Lara Bourdin (Montréal, Canada). Promotional materials feature design by Keiko Lee-Hem (Nelson, Canada). An exhibition catalogue including documentation, curatorial texts and art writing responding to the project will be available shortly following the exhibition close.ABOUT THE CURATOR
Rodrigo D'Alcântara is a Brazilian visual artist, curator, film/video-maker and PhD candidate in the Interuniversity Doctoral Program in Art History at Concordia University (Tiohtiá:ke/ Montréal, CA). His practical and theoretical research articulates symbolisms, dreams and counter-hegemonic mythologies in contemporary times, through personal and collective dissident narratives. His doctoral studies are supported by Concordia University Graduate Fellowship and Concordia International Tuition Award of Excellence. He holds a Master degree in Visual Arts from the School of Fine Arts of Federal University of Rio de Janeiro (Brazil) and a Bachelor degree in Plastic Arts from the University of Brasília (Brazil) – with an exchange term in the Los Andes University (Colombia). Rodrigo's works have been screened internationally, in countries such as Austria, Brazil, Belgium, Chile, Germany, Greece, Italy, among others.ABOUT THE ARTISTS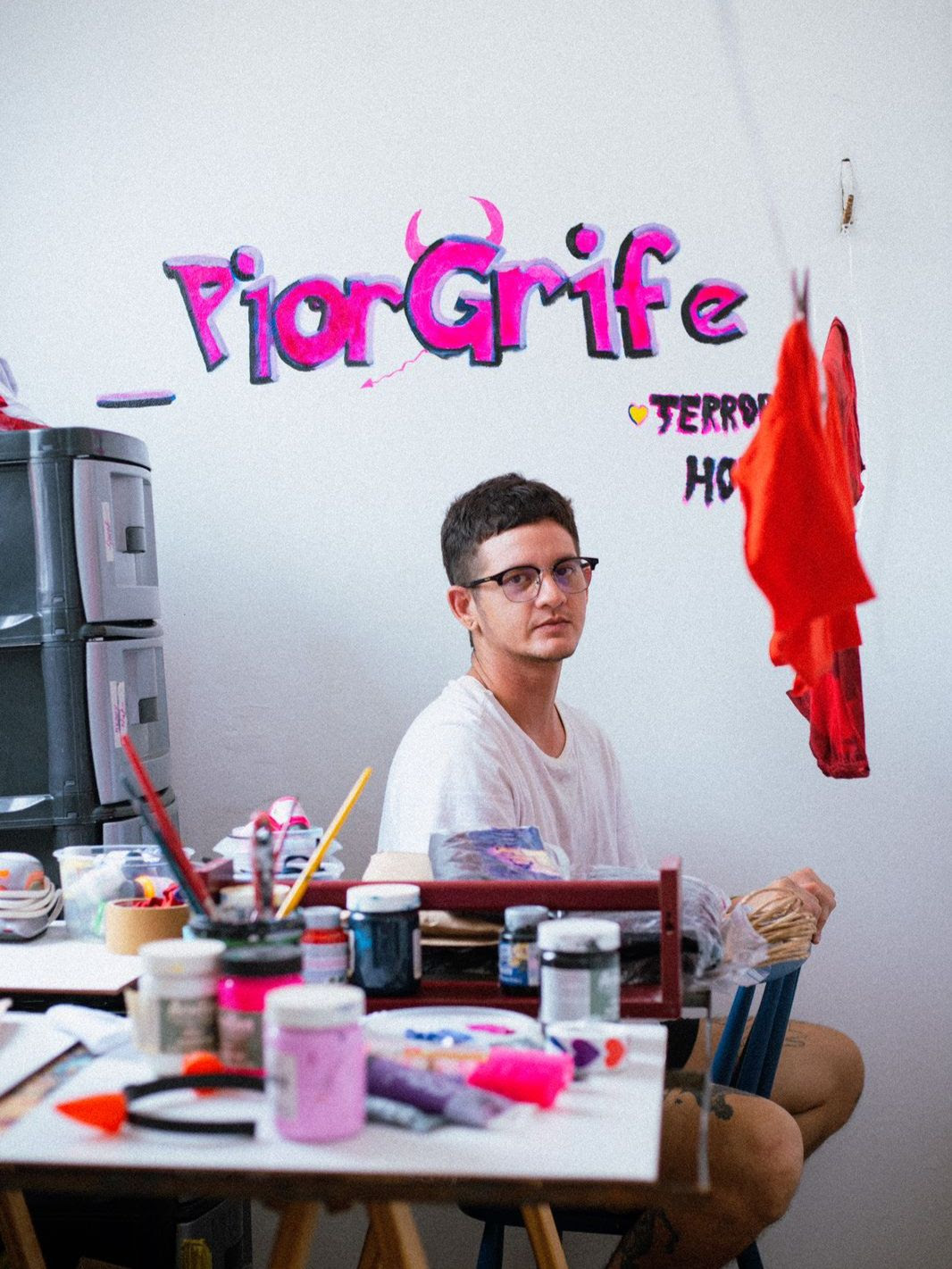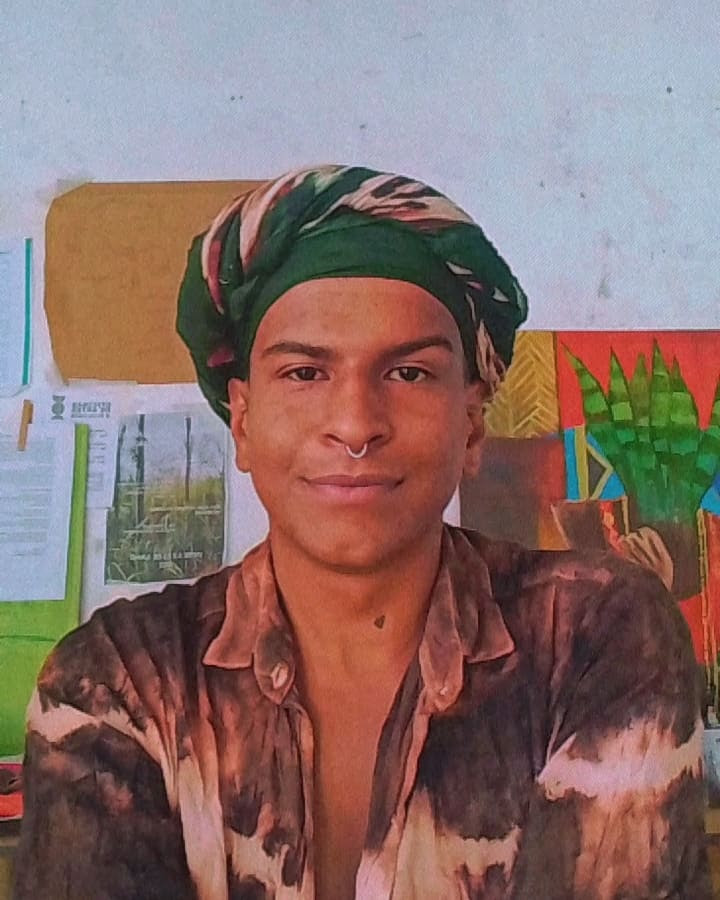 Bento Ben Leite was born in Fortaleza, Brazil, in 1990. He lives and works in Fortaleza and is represented by Alfinete Galeria and A Pilastra Galeria, both in Brasilia, DF. With a bachelor's degree in Fine Arts from Universidade de Brasília, Bento focuses his studies on painting, engraving, drawing, and cinema. His collages are what guide his creative process, addressing subjects such as violence, conflict, daily life, love, questions about gender and sexuality, and the strength of the TLGBQI+ family. Music shows up in his works as the soundtrack of metaphorical fictional images. It may be surprising to see his painting series including movie names, music albums, blogs, and memes of Ceará's drag queen reality show. Furthermore, he proposes links between composition texts and acclaimed pop culture images. Bento has participated in multiple solo and collective shows throughout the Brazilian territory and was a nominee at the PIPA Prize 2019 and 2020 editions.Dyó Potyguara is Rastros de Diógenes (Brasil, 1994) a proposer of performances, poetry, and pedagogical interventions in which she intersects ecologies, memory, presence, and virtuality. She has collaborated with collectives and institutions, taking part in exhibitions, residencies, publications, and festivals throughout Abya Yala and Europe, such as Campo, Capacete, Casa Mata, Acciones al Margen, Transweb, Ehcho, MEXE International Art and Community Festival, and Schwules Museum. She is part of the Ocultas collective and works with the Terreiro Afetivo laboratory of artistic and ecological practices, selected by Campo's Várzea research grant. Most recently, she has been selected as a resident at Pivô Pesquisa 2023 (São Paulo, Brazil).
Simon(e) Jaikiriuma Paetau is a German-Colombian interdisciplinary artist. Their works are located between cinema, video installations, and performance, dealing with queer decoloniality. Simon(e) studied Media Art at the KHM Cologne and Film at the EICTV Cuba. Simon(e)'s films have premiered at Cannes Directors Fortnight, BFI London, New York Film Festival, documenta14, New Directors/New Films MoMa, and Rotterdam, and won, among others, the Emerging Talent Award at kurzfilmtage Oberhausen 2022, the Norman Award2022, the Best Director Award at the Cartagena de Indias International Film Festival Colombia 2018, and a nomination for the Queer Palm at Cannes 2022. Simon(e)'s performances and installations have premiered at Wexner Center of the Arts, Berlinische Galerie – Museum of Modern Art, HKW, Monitoring Kasseler Dokfest, Studio Я of Maxim Gorki Theater, Ballhaus Naunynstrasse, Hebbel am Ufer, Cinemateca de Bogotá, as well as the 11th Berlin.Cecilia Vilca
Born in Lima, Peru. M.A. Digital Arts, Universitat PompeuFabra, Barcelona, Spain. Graphic Design Degree from School of Design Toulouse-Lautrec, Lima, Peru. Grant awarded in GIS and Atlas Design at Faculty of Geo-Information Science and Earth Observation (ITC) – University of Twente, The Netherlands. Founding member of creative and digital heritage division, MyAP – Microscopia Electrónica y Aplicaciones en el Perú. Her artistic work is made with technology in concept and realization exploring its relationship with gender, society, and nature. From a decolonizing vision it develops in the borders of art and science, connecting ancient technologies with the new ones. Her main goal and poetic are to encourage reflection through revelation using technology. Six Art Residency Programs: Mexico, Bolivia, and Brazil. Independent International Program Committee of ISEA2020 Member. Journal of Science and Technology of the Arts Reviewer. She has exhibited organized exhibitions and lectured in Peru, Mexico, Bolivia, Argentina, Spain, Cuba, Chile, Norway, Colombia, Brazil, South Africa, Australia, Greece, Ireland, Portugal, Austria and USA.This project is generously supported by the Canada Council for the Arts, the British Columbia Arts Council, the Columbia Kootenay Cultural Alliance, and the Regional District of Central Kootenay.LEARN MORECALL FOR PROPOSALS
Call for Proposals: Artists and Artist Facilitators for Youth Art Retreat (2024) Oxygen Art Centre announces a public Call for Proposals to artists and artist educators to fulfil two (2) positions for their Summer 2024 Youth Art Retreat project. The deadline to apply is Friday, December 8, 2023, at 12:00 PM Midnight (PST).
Google Form: https://docs.google.com/forms/d/e/1FAIpQLScDjjFloiALM6MP-Z0Mr5L9xA5ZH3g2FiBCtmV86sZi5emCNQ/viewform?usp=sf_link Oxygen's Youth Art Retreat is a new arts education program that will take place over three-days from July 3 to 5, 2024, at The Narrows Art Retreat. Situated on the tum xula7xw of the sn̓ʕay̓ckstx (otherwise known as Nelson, B.C.), the artist facilitators will lead five (5) participants (ages 15 – 18) in an immersive land-based arts educational experience. Consequently, Oxygen invites expressions of interest from artists and artist educations whose work explores land-based practices. Priority will be given to Indigenous artists and artist educators. Experience working with youth (ages 15 – 18) will be considered an asset. We invite collaborative proposals (up to two artists or artist educators) or individual proposals. Proposals will be collected via Google Form and is available on Oxygen's website. Two (2) artists or artist educators will fulfil this role. Artists will be compensated based on CARFAC group presentation rates for a half day orientation session and a daily flat rate for the three-day (two-night) retreat, scheduled to take place from July 3-5, 2024. Artists will also receive a travel honorarium and compensation for administration. Accommodation and food will be provided during the retreat. Interested artists can submit their proposals via Google Form until Friday, December 8, 2023, at 12:00 PM Midnight (PST). While we thank all applicants only successful applicants will be contacted. Please contact Oxygen's Education Coordinator, Natasha Smith with any questions or alternative methods to apply. This project is generously supported by the Columbia Kootenay Cultural Alliance.APPLYNOTICE OF AGMOxygen Art Centre's Annual General Meeting (AGM) will review the 2022 – 2023 year. The community are invited to learn about the artist-run centre's programming highlights and financial reporting. Renew or become a member prior to the meeting to vote. Oxygen memberships range from $2 – $10 and directly support the artist-run centre!
Tuesday, November 21, 2023, at 5:00 PM
Duration: 30 – 45 minutesEveryone welcome! Admission is free. In person:Kootenay Studio Arts at Selkirk College
Room 311, 606 Victoria St, Nelson, BC V1L 4J4Attendees can expect someone to greet you at the entrance of the KSA building. Light refreshments will be provided. Online:ZoomRegister in advance for this meeting, here. After registering, you will receive a confirmation email containing information about joining the meeting.
LEARN MORE
REGISTER (ZOOM)
MEETING DOCUMENTS
MEETING DOCUMENTS (TEXT ONLY)
CATALOGUE
We are delighted to share the latest exhibition catalogue, Tracelines by Vance Wright.
Tracelines took place after Wright's residency in the Spring of 2023, running from 27 May – 17 June 2023. The exhibition featured new and existing works by the artist, which explored the concepts of trace and portals through sculpture, beadwork, camouflage, and installation.
Many thanks to designer Keiko Lee-Hem, photographer Kenton Doupe, and Mackenzie Hope and team at Hall Printing for their work and contributions to this beautiful catalogue.
Digital publication available here
Purchase print copy here (mailing options available)PURCHASEJOINSupport your artist-run centre by becoming an Oxygen Art Centre Member.

Oxygen Memberships run from $2 (Senior/Student) to $5 (Single) to $10 (Families) and significantly help our organization. Become a member today!

MEMBERSHIP BENEFITSEvents, Tours and Artist TalksVolunteer, Networking and Mentorship ExperienceRegular mailings and newslettersVoting Privileges at Oxygen Art Centre's AGMAccess to current Exhibition Publications and CataloguesArtist-in-Residence and Exhibition ToursRegister ONLINE or by MAIL
Already a Member? Consider making a Donation.REGISTERImages (top to bottom): (1) Aribada, Simon(e) Jaikiriuma Paetau & Natalia Escobar in collaboration with Zamanta Enevia, Video, DCP, 5,1 sound, 30 min, 2022; (2) Video still from Capikarã (Dir. Rodrigo D'Alcantara, 2019); (3) Eu, Zumbi (Me, Zombie), Bento Leite, Short-film still, MP4, 6 min 39 sec, 2021; (4) Aparições em mata flechada (Apparitions in an arrowed forest), Dyó Potyguara, GIF, on loop, variable dimensions, 2021; (5) Mourning Stage, Simon(e) Jaikiriuma Paetau and Carlos Motta, Experimental video short film still, 2022; (6-10) Images courtesy the artists; (11) Youth Art Retreat promotional graphic, 2023; (12) OAC Notice of AGM Promotional material, 2023; (13) Interior image of Tracelines catalogue, 2023; (14) "Become a Member" text overlaid on an image documenting an installation in progress at Oxygen Art Centre, 2015;
Oxygen Art Centre
info@oxygenartcentre.org
#3- 320 Vernon St. (alley entrance) Nelson, B.C. V1L 4E4 Canada
250-551-6329
Facility access information

Hours of Operation: Wednesdays – Saturdays, 1:00 – 5:00pm (during exhibition run)
Admission by donation

Oxygen Art Centre acknowledges with gratitude that we are located on the tum xula7xw/ traditional territory of the sn̓ʕay̓ckstx/the Sinixt People. As uninvited guests we honour their ongoing presence on this land. We recognize that the Sylix, Ktuxana, and Yaqan Nukij Lower Kootenay Band peoples are also connected with this land, as are Métis and many diverse Indigenous persons.

We are grateful for the financial support we receive from Canada Council for the Arts, BC Arts Council, BC Gaming, Province of BC, Government of Canada, Vancouver Foundation, Columbia Kootenay Cultural Alliance, Columbia Basin Trust, United Way, Osprey Community Foundation, Nelson Lions Club, and Nelson and District Credit Union.

We offer thanks to Elephant Mountain Literary Festival and other key partners including Hall Printing, Speedpro Signs, and Selkirk College for their support.

We especially thank all of our volunteers, donors, and members.

Oxygen Art Centre is committed to ensuring all exhibitions, programs, and events are accessible to visitors. Our facilities are wheelchair accessible and equipped with an all-genders washroom. Please contact Oxygen if you have any questions or concerns about your visit.
…